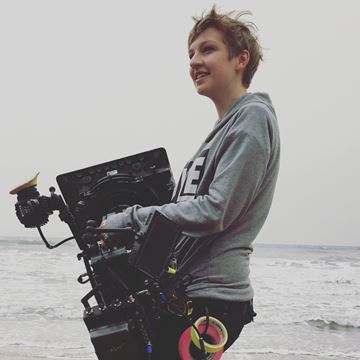 Ella Brewin
ScreenSkills Film Camera Trainee
Location:

Leeds

Career stage:

Early

Freelancer:

Available
Production Safety Passport
Quick thinking and reliable Camera Trainee with extensive experience in film. Willing to travel for work. Bases in London, Cardiff, Leeds and Manchester.
Full clean UK driving licence and car.
Confidant in bashing cables, teradek systems, setting up battery charging stations and video village.
Education: 1st Class Hons Degree in Bachelor of Arts (BA) Filmmaking at The Northern Film School.
Completed a Level 2 Health and Safety in the Workplace course certified by th Royal Society for the Prevention of Accidents.
I have been trained and have strong working knowledge with the following cameras - Arri Alexa Mini, Classic and SXT - Black Magic Ursa/Mini - Black Magic Pocket - Sony F55
---
This ScreenSkills member holds a Production Safety Passport.
Safe Management of Productions
First Option
15th April 2019 - 15th April 2024
Work History
Camera Trainee (Daily) - We Banishing Ltd. (The Banishing - Feature Film)
Camera Trainee (Whole production) - GSP Studios (Deus - feature film)
Camera Trainee (Dallies) - CBBC ( 4 O'Clock Club - TV show)
Video Trainee (One episode) - Checkmate Productions Ltd (The Rook - Season 1)
Video Trainee (Two Episodes) - 20th Century Fox Television (Speechless, Season 3, Ep 1 & 2)
Camera Trainee (Dallies) - Classified Film Ltd (Official Secrets - Feature Film)
Camera Trainee (Dallies) - Guinea Pig Productions (Ilkley - Feature Film)
Focus Puller (Low budget) - TryLife (Avavi's Story - Ep.4 - online web series)
Camera Operator (Low budget) - Idle Works Factory (Suicide Kelly - short)
Focus Puller (Whole film) - Dark Rift Films (Book of Monsters - Feature film)
Loader (One Week) - Talking Lens Productions (Ask the Cheat - Feature film)
Education
Filmmaking - 1st Class Hons - Bachelor of Arts - Northern Film School
Extended Project Qualification - A* - Half an A-Level - York College
Film Studies - A - A-Level - York College
Photography - B - A-Level - York College
Law - B - A-Level - York College
Skills
Camera Assisting
Camera trainee
Focus Pulling
Loader