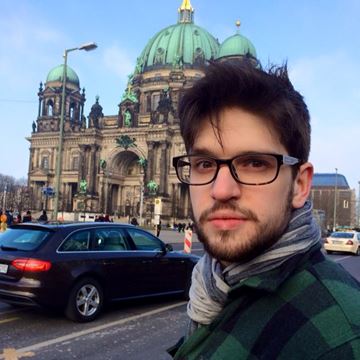 Craig Evans
Freelance Sound Recordist
Location:

Bases: Cambridgeshire, Bristol, Manchester and Northen Ireland (also willing to travel anywhere and sort own accomodation)

Career stage:

Entry

Freelancer:

Available
Production Safety Passport
Hello! I'm Craig and I aspire to be your Sound Trainee!
I've been told I'm tenacious, have a strong work ethic and am pleasant to be around. I've picked up a lot, not just from film jobs but all kinds of jobs I've had over the years. I'm ready with no notice to come and assist you anyway I can. I have the usual experience of booming, mixing, mic rigging and setting up monitors. But I'm happy to do whatever tasks you see fit and need assisitng with.
I have experience doing dailies as a Sound Trainee on 'Maleficent 2' and have had work experience with the Sound Department on the Renne Zellwegger film 'Judy'
I am also very happy to have been accepted on to CREATIVE SKILLSET TRAINEE FINDER Scheme for 2018/19 as a Sound Trainee.
Thank you for your time.
---
This ScreenSkills member holds a Production Safety Passport.
Safe Management of Productions
First Option
26th March 2018 - 26th March 2023
Work History
MARSHALL/ WAREHOUSE OPERATIVE` - DHL DISTRIBUTION (SINGLE EMPLOYMENT)
SOUND MIXER - KINDLING (SHORT FILM
SOUND MIXER - LOVE HOTEL (SHORT FILM)
BOOM OPERATOR - DIG (SHORT FILM)
SOUND MIXER/ BOOM OPERATOR - BUZZ BRIGHTLY (SHORT FILM)
ONE OF MULTIPLE SOUND MIXERS - HOW TO TIE MY SHOELACES (SHORT FILM)
BOOM OPERATOR - COPS (30 SECOND AD)
DIRECTOR - WEIGHTLESS (30 SECOND AD)
S.L.A.M OPERATOR - AMAZON DISTRIBUTION (PMP EMPLOYMENT)
SOUND MIXER - IKRA & JO (SHORT FILM)
SOUND MIXER & SOUND DESIGNER - THE SLEEPOVER
BOOM OPERATOR - FEIGN (SHORT FILM)
SOUND MIXER - THE FORGOTTEN BIRTHDAY (SHORT FILM)
SOUND MIXER - DYING LIGHT (SHORT FILM)
SOUND RECORDIST - EVERYDAY SEEMS NORMAL (SHORT DOCUMENTARY)
VARIOUS AGENCY WORK - CALL CENTRE - REMOVALS - WAREHOUSE - TIME PERSONNEL RECRUITMENT
PRODUCER - ANUBIS (SHORT FILM)
CUSTOMER SERIVCE (PART-TIME) - PAPA JOHNS
BOOM OPERATOR - MOTEL (SHORT FILM)
SOUND RECORDIST - FLASH MOB ONLINE VIDEO
BOOM OPERATOR - HAZEL (SHORT FILM)
BOOM OPERATOR FOR LIVE AUDIENCE - ONLINE POLITCAL PARTY DEBATE
DIRECTOR - YES' OUI JA (SHORT FILM)
WAREHOUSE NIGHT OPERATIVE - SMITH NEWS
WAREHOUSE OPERATUVE - AMAZON DISTRIBUTION (QUEST EMPLOMENT)
XMAS SALES ASSISTANT - ARGOS
Education
Film Production - BA (HONS) - 1st - University of Gloucestershire
Skills
Boom
Camera Operating
Field Recording
Lav Mics
Mixing
Pro Tools
Runner
Sound Design
Sound Design for Picture
Sound Mixing