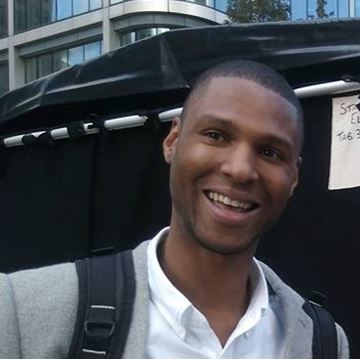 Adrian Cline-Bailey
Seeking Videographer opportunities-web video.
Location:

London

Career stage:

Early

Freelancer:

Available
My names Adrian and absolutely thanks for taking the time read my profile.
I have about ten years experience as a creative in video editing, web video production. I was a student at the London College of Fashion for my BA in Fashion Promotion, 2006, and a postgraduate student at the London College of communication for Broadcast journalism, 2008/9.
Essential Skills and Experience.
A passion for video and photography/Experience using photography and video equipment/Experience editing videos using industry standard / popular video editing software eg Final cut / Adobe Premiere and or After Effects/Experience in filming and editing/Experience editing images-Lightroom/Capacity for learning technical skills/An aptitude towards cameras and audio equipment/
Character and Interpersonal skills.
Positive attitude, persistent and resilient/enthusiastic about all aspects of work/keen to progress, learn and adapt to new environments and challenging situations/Not afraid to get involved in a project outside of a traditional skill set/The persistence to work hard to achieve the best possible outcome/
-Beneficial Skills-
Dealing with customers (in person / via email / on the phone)/Good IT skills/Ability to work independently and as part of a team/Willingness to learn new skills and rise to new challenges/Ability to work under pressure
I believe I'm still growing and learning so there are Business Skills I would like to develop.
Understanding of cost and best value/Being able to establish and maintain excellent relationships with clients/Knowledge of marketing/Sales experience/Working with production management to generate budgets and define terms/Working with business development to create new digital strategy's/Managing small and large production teams creating content.
Skills
An aptitude towards cameras and audio equipment
Conception and implementation of own creative ideas
Consulting with the director, producer and/or client throughout the post- production process
Experience editing images-Lightroom
Experience editing videos using industry standard
Experience in File Management and Key Wording
Experience in filming and editing
Experience of communicating via email with clients, and telephone when required.
Experience of Self Employed-Develop initial story or concept into a production-feasible, fully planned project.ing
Experience of ssembling all raw footage in preparation for inputting into the computer.
Experience organising video shoots as a self employed videographer.
Experience using Apple and Microsoft interfaces
Experience with photography and video equipment
Experience with popular video editing software Final cut / Adobe Premiere and or after effects
Experimenting with styles and techniques
Good IT skills
Managing projects from beginning to end. Including initial contact, quotations, closing sales, concepts, production, signing off, updates and reviews
Overseeing the quality and progress of audio and video engineering and editing
Reordering and tweaking the content to ensure the logical sequencing and smooth running of the film/video
Strong experience in creating a 'rough cut' (or assembly edit) of the programme/film and determining the exact cutting for the next and final stages
Suggesting or selecting music
Very strong experience of digitally cutting the files to put together the sequence of the film and deciding what is usable