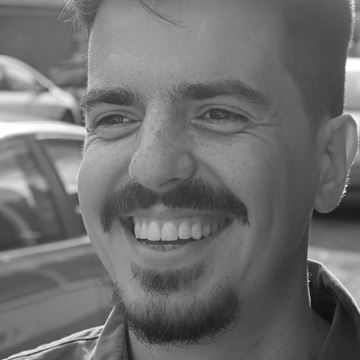 Giorgos Kapsanakis
Assistant Director Trainee
Location:

London

Career stage:

Entry

Freelancer:

Available
Giorgos Kapsanakis is a member of the Greek Directors Guild and currently is working as a Director's Assistant / 2nd AD in the Feature Film "A Christmas Carol" directed by the BAFTA nominee Jacqui Morris. Lately he worked as an Assistant Director Trainee in the major feature film "Monday", an international co-production directed by Argiris Papadimitropoulos. His past experience includes working in various factual TV programs in different departments, as well as commercials, short films and music videos.
The latest short film "Shapes of Mine" which he wrote and directed is now in the festival circuit and has been selected to the Aesthetica Short Film Festival (BAFTA Qualifying), to the 41st Drama Short Film Festival (Greece's leading short film festival), as well as to 8 other international film festivals. It also received an award for best student film, nominations in various categories and has been screened at BFI as part of an International Moving Image Society's event.
Work History
Director's Assistant | "A Christmas Carol" Feature Film - Frith Street Films, Directed by Jacqui Morris
Assistant Director Trainee / Floor Runner - Dailies - POLDARK S05 - Mammoth Screen
Assistant Director Trainee | "Monday" Feature Film - Co-production Faliro House Productions, Automatik, Protagonist Pictures, Blonde S.A.
Vlogger, Blogger and Social Media Content | Student Ambassador - Bournemouth University
Director of Music Video | Niose Mono Emena - Jimmy Gian - Panik Records
Camera Operator | TV Reality Show - Plus productions
Camera assistant, Sound Recordist, Driver | TV Shows & Commercials - DCV tv Productions
Videography | Coverage of company's workshops for corporate use - MINDSEARCH
Producer, Director, Cinematographer | Internship in TV Channel - VOULI Tileorasi - National Broadcaster TV channel
Education
MA Directing Film and Television - Masters - Bournemouth University
Workshop in Documentary - Certificate of Attendance - School of audiovisual Communication, Docroads
Cultural Technology and Communication - Bachelors - University of Aegean