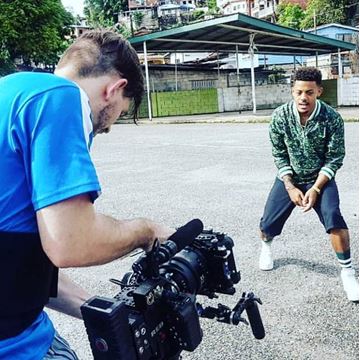 Robert Macfarlane
Film Director
Location:

Old Windsor

Career stage:

Experienced

Freelancer:

Available
Robert Macfarlane is an award winning narrative director based in the UK. He has a degree in Digital Film and Television from the London South Bank University and has worked extensively in the film and television industry both in the UK and the Caribbean.
Robert has been directing for over 15 years and has many broadcast and festival credits to his name. He wrote and directed the short film Jab in the Dark a suspense thriller which won the People's Choice award at the Trinidad and Tobago Film Festival 2013. It also screened at the
Caribbean Tales Film Festival, Toronto and The Caribbean Short Film Corner, London.
In 2012 he directed A Bess Pelau a short comedy which screened at The Caribbean Short Film Corner and the Trinidad and Tobago Film Festival. He also directed Christmas Mugs and Still Life with Bench which both went on to be screened at the Cannes Short Film Corner.
Robert has directed dozens of music videos, commercials and biographical films which have found their way to channels such as the, MTV, the Box, and VH1. Projects range from the emotional biography of construction tycoon Emile Elias, exploring the 50 years of history behind his businesses and family life to the harrowing music video All the Wars for the popular indie band Pineapple Thief.
Gaining even more experience with storytelling, Robert has also edited several feature films such as The Lies We Tell and the acclaimed Green Days by the River both of which premiered at the Trinidad and Tobago Film Festival 2017 and the multi awarding feature film Sally's Way in
2014 which premiered at the Seattle Children International Film Festival in 2015.To date it has won the Global Zoom Feature Film Prize and best actress prize in the Pan-African Film Festival based in Cannes 2015.
Robert is currently developing several new projects, most notably is the film Wishing for Wings. This heart wrenching drama feature film set in a Trinidadian youth prison that tells the tale of an inspirational journey to freedom for a group of young inmates.