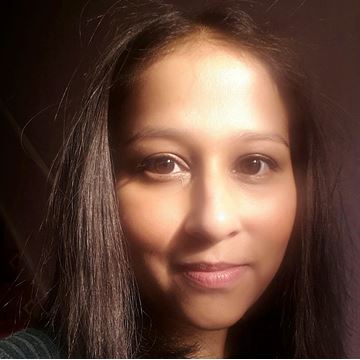 Karishma B
Freelance Vision Mixer & part time Business Development Executive for Frank & Lively.
Location:

London

Career stage:

Experienced

Freelancer:

Available
Production Safety Passport
Currently I work for the award-winning company, Frank & Lively where I worked as a post production coordinator for their Bafta nominated film, Apostasy. I'm now moving from business sales to film producing.
I also freelance as a vision mixer and have just finished vm training from Ross (Ross Graphite, Xpressions) for a eurocentric Nigerian news channel.
I'm a previous PACT Diversity trainee who worked as a freelance TV researcher.
My passion for visual storytelling means I have a keen interest for factual and documentaries.
I'm a confident and bright indivdual who has a variety of skills and makes great team member.
My previous experience of being on the broadcast team at the Roundhouse has enabled me to be able to edit and self-shoot using a variety of cameras such as C300/100, EX3 and Canon DSLRs.
I have a sound knowledge of TV production, development and live events from my time at Mercury Prize and working at North One TV. I have worked on productions which involved international filming and successfully researched and developed whole episodes which have gathered press and viral attention (Ronnie O'Sullivan's American Hustle).
I am also a passionate vision mixer who has directed and live edited high profile live streams such as Virgin Business' record breaking "Pitchathon" and the RTS Midlands Awards.
I live in London and I'm currently availble for work and collaborations.
I look forward to hearing from you.
Karishma.
---
This ScreenSkills member holds a Production Safety Passport.
Creative Industries Safety Passport
BECTU
21st June 2017 - 21st June 2020
Work History
Sales Executive - Frank & Lively
Researcher/Marketing - Loft Films
Freelance Vision Mixer and Director - Streaming Tank
Researcher - North One TV
Trainee development researcher - North One TV
Vision Mixer - Roundhouse
Researcher - Superplex Pictures
Production Trainee/Assistant - Mercury Prize
Education
Radio Broadcasting - Level 1 Radio Broadcasting - Open College Network
Creative Enterprise - H.E (equivalent to 1st year) + special merit. - London College of Communication
Skills
basic filming and editing
Digital Marketing
Corporate Filmmaking
Documentary
Factual
Feature Film
Film
Live Events
Live Gallery
Location
Outside Broadcast
Post Production
Research
Self-shooting
Streaming
Television
Video Producing