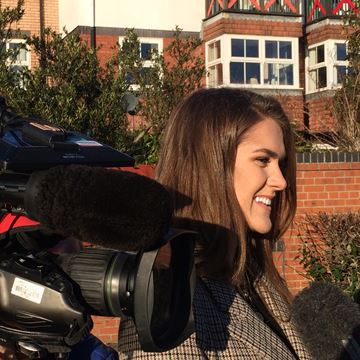 Sara Sparrow
ScreenSkills Film Assistant Director Trainee
Location:

North Yorkshire, UK

Career stage:

Entry

Freelancer:

Available
Production Safety Passport
Screenskills Film Trainee Finder 2019/20 - Assistant Director Trainee.
UK based Floor Manager and Runner with a demonstrated history of working in broadcast and creative media industries. Professionally skilled in media production, communication, and administration, with a proven ability to excel in time- critical, demanding work environments. Highly motivated and organised individual with experience in the production of live and pre-recorded television in both studio environments and location sets. Background in news and factual, drama, sports and events.
Car owner with full, clean EU Driving License and willingness to relocate for work.
Bases in Yorkshire, London, Manchester and Newcastle.
Seeking position floor running on high-end film and television productions.
---
This ScreenSkills member holds a Production Safety Passport.
News Assignment & Location Safety
BBC
12th November 2018 - 12th November 2023
Work History
Floor Runner (Dailies) - BBC Children's Productions Ltd, The Dumping Ground
Floor Manager - Boro TV, Middlesbrough FC Fixtures
Floor Runner/Production Assistant/Reporter/Floor Manager - BBC, Sunday Politics
Reporter - BBC, Look North
Floor Manager - BBC, BBC Tees Roadshow at Stockton Fireworks
Floor Manager/Floor Runner - BBC, Local/National Election Count Live
Floor Runner - Netflix, New Pictures, The Innocents
Floor Runner - BBC, Election 2017 - Where You Live
Production Assistant/Floor Runner - BBC, A Mayor for Tees Valley
Floor Runner - BBC, Better In or Out? Referendum Special
Education
Journalism, Media and Culture - Bachelor Of Arts Degree - Newcastle University
Skills
Adobe PremierePro
Event Management
Graphic Design
Languages
Scriptwriting
Administration
Adobe After Effects
Adobe Audition
Broadcast Production
Communication
Customer Service
Full Clean Driving Licence and Car
Health and Safety
Live Events
Media Production
Organisational and Planning Skills
Time Management
Website Design