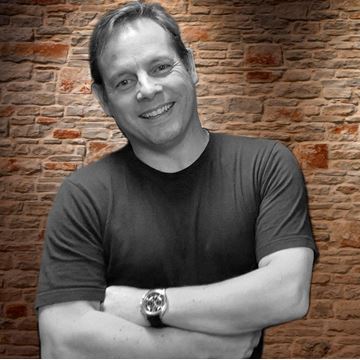 JR Villar
Scriptwriter
Location:

Yorkshire, UK

Career stage:

Expert

Freelancer:

Available
JR Villar is an EMMY Winning scriptwriter, born in Lisbon, in 1969 and raised in Cascais, his family's town in Portugal.
Cascais is a magic, mythic place. The town of refuge for the kings during World War II. The Spanish, Italian, French, Bulgarian and Romanian royal families and many artists like Zsa Zsa Gabor took shelter in the glamorous hotels near the beach in Estoril and Cascais.
Ian Fleming started the adventures of James Bond at the Hotel Palacio in Estoril, due to his own experiences when he also lived in the hotel.
Living in this aura just next door to his school, from an early age JR Villar showed an above the average creativity in many different subjects, especially in music, acting, illustration, and storytelling.
In 1988 directed his first short animated cartoon, "La vie en Gris", for the event "Animathon International" by the hand of the Academy Nominee André Leduc and the National Film Board of Canada. For this short animation film (16mm) JR Villar won is first world praise, an "honor special". This was the first step in the Film and Television career. His first participation in a major TV show was as a videographer for "Os Trapalhões em Portugal" (TV SIC, Portugal, 1994–1997). Os Trapalhões were the most famous comedy group from Brasil, equivalent in the UK to "The Two Ronnies" or "Morecambe and Wise".
In 2011 JR Villar moved to the United Kingdom and lives in York.
JR Villar works as a professional scriptwriter and has more than 250 episodes broadcast in Portugal, Italy, France, South Korea and Russia after being invited by major TV producer in Portugal before finishing his studies. In 2009 and 2010, he also attended different seminars of scriptwriting by Robert McKee: "Story" and "Genre". In 2015 become a finalist for the Script Yorkshire Script Factor and is currently followed by executives from BBC and ITV.
In the UK, JR Villar attended and participated in many different seminars and masterclasses with writers and producers from BBC, ITV and Channel 4:
Kristian Smith (BBC Comedy Commissioner) , Elaine Cameron (Producer, The guilty), Phil Mealey (Actor and Writer –The Royle Family), Claire McCarthy (producer – Class Dismissed), Andy Potter (Writer – Class Dismissed), Elliot Kerrigan (Writer – Boy meets girl), Rebecca Root (Actor – Boy meets girl), Paul Walker (Director – Boy meets girl), Sophie Clarke-Jervoise ( Executive Producer – Boy meets girl), Anne Edyvean ( Head BBC Writersroom), Kate Rowland (BBC Creative Director), Tony Jordan (Life on Mars), Barbara Machin (Waking the Dead), Danny Brocklehurst (Shameless), Bryan Elsley (Skins), Sophie Gardiner (Channel 4 Drama Commissioning Editor), Levi David Addai (My Murder), Hilary Salmon (BBC Executive Producer, Drama), Chris Aird (Head of Drama, BBC Scotland), Jane Featherstone (Chief Executive Kudos), Pete Bowker (Monroe), Toby Whithouse (Doctor Who), Charlie Higson and Anthony Horowitz.
In 2012 was invited to be part of a pitching panel for creative writing students at the Brighton University with Jamie Mathieson ('Being Human'; 'Dirk Gently') and Huw Penalt-Jones, Chief Executive of De Lane Lea Production Company ('Sherlock Holmes'; 'Harry Potter'; 'X-Men'; 'Sweeny Todd'; 'Wallace and Gromit'; 'Tipping the Velvet'; 'Tinker, Tailor, Soldier, Spy' ).
Work History
Scriptwriter - Independent
Director, Actor - Independent
Scriptwriter - SP Televisao
Executive Producer - Logomedia
Education
Film - Explore Filmmaking - Professional - NFTS - National Film and Television School
Professional Training, BBC Safeguarding Trust, Completed - Professional - BBC Academy
Scriptwriting - Genre - Professional - Robert McKee
Media, New Media and Broadcast - Master (Incompleted) Post-Graduate degree (Completed) - ESCS Media University - LIsbon
Scriptwriting - Story - Professional - Robert McKee
AVID Media Composer - Professional - Restart - Media Institute Lisbon
Musical Theatre - Summer School - Guildhall School of Music and Drama
Webdesign - Flash Animation - Professional - Cenjor - Journalism Institute Lisbon
Theatre and Drama - Professional - TZM - UM - Lisbon / Stella Addler Conservatory NY
Cinema, television and advertising movies - Post--graduation degree - UM University - I@T
Graphic and Visual Design - BA Design Degree - IADE - Creative University Lisbon
Skills
Acting
Adobe Creative Suite
Creative Direction
Creative writing
English
French
Italian
Portuguese
Scriptwriting and Development
Spanish
Theatre
TV Production