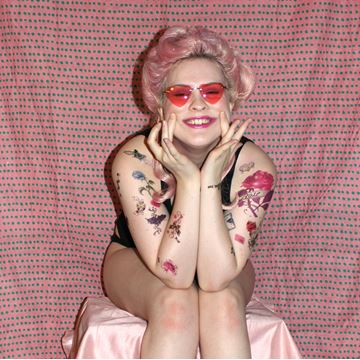 Courtney Askey
Artist/musician/filmmaker
Location:

Leicester

Career stage:

Early

Freelancer:

Available
Courtney Askey is a cross-disciplinary artist, filmmaker, curator and musician based in Leicester. Her work often explores discovery, identity and the self. The artist has a huge passion for film and has been writing, shooting, directing and producing films since 2012. Her work has since been exhibited in a number of exhibitions in Leicester and she is undertaking various curating projects. She is currently undertaking a BA in Fine Art at De Montfort University.
"Imagine the dark melodrama of Nick Cave with the briefest whisper of PJ Harvey and the Lo-Fi grunge guitars of Sleater-Kinney and you're getting close to something resembling Courtney Askey's musical output thus far." (Great Central)
"Courtney Askey… Remember the name, it's one you'll want to be on the lookout for in the very near future." (Radsound)
Courtney Askey is a Leicester based musician, artist, filmmaker and curator. She has lived, produced and performed works in England, Paris and Hong Kong. "Leicester's favourite Gothic-Folk Noir girl" plays lo-fi, grungy, folk-tinged alternative music.
Previously solo, she now plays alongside Echolocation bassist, Andy Askey, and drummer, Dan Hessing and guitarist, Tiff Michelle. Drawing on influences from 1920s decadence through to 1990s grunge, Courtney's 'honey-coated' vocals draw in and mesmerise the listener. She has been prolifically writing, performing and recording music since 2010.
In 2010, Courtney released her debut EP 'Salt', produced by Harvey Sharman-Dunn. In 2013 she released a self produced experimental four track EP under the name Carmen Haze. In September of 2013, she moved to Hong Kong for three months of writing and gigging, and performed around the island. Courtney moved to Paris in 2014, where she wrote a number of songs for upcoming releases. She is now living and performing in England. In May 2015, Courtney signed to Blizzard Records. She released single 'Paris Apartment' featuring Sean Winchester (Everclear, Bow Wow Wow, Something Bot Metro) in January 2016 on the label. The debut album 'Oh! Softy Goes' was released on the label in Febraury 2017. Courtney has previously supported The Subways, Ringo Deathstarr, The Wonderstuff, Frankie and the Heartstrings and Tiny Ruins.
Work History
Director - Silver Vine Arts
Curator - the Orange tree
Workshop Leader - Soft Touch Arts
Artist's Assistant - Leila Houston
Volunteer and exhibiting artist - Summer Art Trail
Education
Fine Art - BA - De Montfort University
Art and Design Foundation - Foundation Diploma Distinction - De Montfort University
English Literature A, Film Studies A, Photography B - A Level - Wyggeston and Queen Elizabeth I
Skills
Photography
Art Film
Creative Writer
Documentary
Filmmaking
Fine Art
Fine Art/Artworker
Music
Portrait Photography
Portraiture
Short filmmaking
Songwriting
Vocals