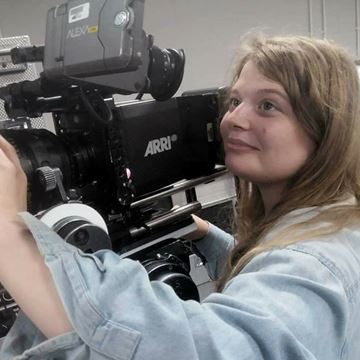 Charlotte Austwick
Camera Trainee // Camera Assistant
Location:

Cardiff, Bristol (Willing to Relocate)

Career stage:

Entry

Freelancer:

Available
Hello, I am a South West based camera trainee and explorer! I graduated in 2015 and since that time, I have been embracing all opportunities to gain experience in the film industry and camera department. The highlight of which has been undertaking work experience at ARRI Rental UK and working on 'Six Minutes to Midnight', directed by Andy Goddard and starring Dame Judy Dench, Jim Broadbent and Eddie Izzard.
I like working in a fast paced environment to create a wonderful story and work with likeminded individuals.
I have considerable documentary experience and in 2018 attended an expedition to Kenya, helping with humanitarian and wildlife conservation. However my main duty was as film coordinator and was responsible for the whole camera crew and equipment.
In March 2017, I acheived an industry regonsied qualification in 'First aid for filming in remote locations' with Lazurus training.
When I am not working or climbing a mountain, I can be found watching a period drama or rehearsing for an Opera production.
You can also find more about me on my social media pages.
Twitter: https://twitter.com/casa1009
Instagram: https://www.instagram.com/charlotteaustwick/
LinkedIn: https://www.linkedin.com/in/charlotte-austwick-97331b72/
Work History
Camera Trainnee - Mad as Birds
Work Experience - ARRI RENTAL UK
Camera Runner - Substantial Films
Work Experience - Oxford Scientific Films
Runner - Welcome Home Films
Runner - On Tour Productions
Assistant at Open Casting Call - Ruby Films
Education
Social Anthropology with a specialism in Visual Anthropology - MA - University Of Kent
Drama and Theatre Studies and Classical Archaeology - BA - University of Kent