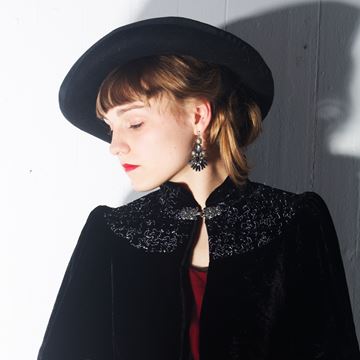 Dayna Ali
Costume Trainee
Location:

Edinburgh

Career stage:

Entry

Freelancer:

Unavailable
Costume trainee keen and available to work in anywhere in the U.K. I've Recently worked in Edinburgh, Stirling and Glasgow as a trainee daily on a Netflix production 'Outlaw King' and previously as a costume assistant on a Scottish Independent feature 'Tell It to the Bees'. I've also gave a helping hand to a Norwegian WWII film 'The 12th Man' shooting on the windy coast of Berwick.
Having just graduated last year from Edinburgh College Of Art studying Performance Costume, I am currently keen to learn and improve on the skills it takes to become efficient in costume for film, tv and photography. Some of my work from the course are on my featured images below, however, you are welcome to look at my site for more information on my design work or my experience with graduate and EIFF short films: www.daynaalicostume.com
Costume design, as a discipline, allows me to combine and satisfy my passion for film, history and people. However, my number one ambition in life has always remained the same – to learn. I'm very passionate about self-improvement and understanding the many walks of life, and again, costume design fulfils this interest as with each job I research a new time, place, world and character and then project this understanding through detail in design.
So far with my experience, I've enjoyed understanding what being a small part of a film's creation is all about, team-work, good communication and keeping spirits up when getting up 3am and tackling knee-deep mud. I'm up for any challenge and looking to learn new skills that could help me work my way up to designing, fitting or assisting with the design process for film and TV costumes.
Work History
Costume Trainee Daily - Netflix: 'Outlaw King'
Costume Assistant - Filming Scotland: 'The 12th Man'
Costume Assistant/Buyer - Reliance Entertainment: 'Tell It To The Bees'
Costume Buyer - Hopscotch Films & Compact Pictures: '1745'
Costume Assistant - Media Mash-Ups
Costume & Production Designer - 'Tron Doras' ECA Graduate Film
Costume Trainee - Plum Films: 'The Northleach Horror'
Costume Designer & Maker - Scottish Rugby Union
Costume Designer & Maker - National Galleries Scotland
Production Designer - 'Lucid' ECA Graduate Film
Education
Performance Costume - BA Hons (First Class) - Edinburgh College of Art
Skills
Adobe Illustrator
Adobe InDesign
Adobe Photoshop
Costume Construction
Costume Design
Dresser
Fabric Sourcing
Fitting
Millinery
Pattern Cutting
Practical Sewing Skills
Print and Textile Design
Prop Making
Research
Set Dressing
Sourcing
Textile Breakdown
Portfolio
ScreenSkills is not responsible for the content of these uploaded files.