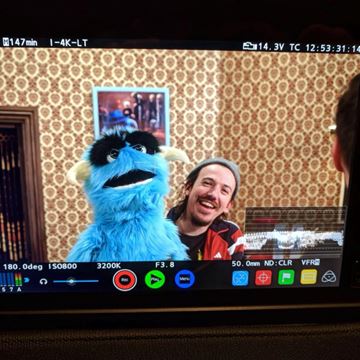 Mikel Iriarte
Filmmaker
Location:

London

Career stage:

Experienced

Freelancer:

Available
Mikel Iriarte is an acclaimed filmmaker, producer, educator and casting director.
Mikel's directorial work has been screened by the BFI, Frightfest the National Film and Television School as well as showcased in Shortcuts to Hell Vol. 1 and World Of Death anthologies.
Education and development is one of Mikel's strongest passions. He graduated from the Northern Film School in 2013 with a First Class Honours degree and has gone on to teach and facilitate workshops for the BFI Film Academy, the National Youth Theatre, Into Film, the Kaunas Cinema Centre in Lithuania and many more.
During the past ten years, while gaining experience in the film industry, Mikel's outreach and development work has been supported by grants from the UK's Department for International Development and Department for Trade.
Mikel has volunteered and worked around the world with charities and NGOs in community and construction projects as well as arts programmes.
In the past three years, Mikel has gained a wide range of skills and experience to enhance his filmmaking career. He has worked in Sales, Distribution and Anti-Piracy for the film industry, attending various markets and festivals around the world. Mikel has worked in the production of numerous adverts and broadcast commericals as well as casting and producing a range of short and feature films and web content, including Black Site, the award-winning K-Shop, Mausoleum starring Julia Deakin, Debbies-nominated Freddy and Fuzmo Fix The World TV Pilot and much much more.
In the "Featured Images" section, you will find a mixture of amateur photography (none of which has been edited, that's the way I like it), and lots of on-set photos.
Work History
Producer - Freddy & Fuzmo Fix The World (TV Pilot)
Producer - Black Site (Feature Film)
Casting Director - Freelance
Producer - Mausoleum (Short Film)
Production Manager - Freelance
Mentor/Facilitator - Kauno Kino Centras Romuva, Lithuania
Head of Acquisitions & PR - Grimm Entertainment
Hospitality Co-ordinator - Larmer Tree Festival
Anti-Piracy Agent - VideoLock
Stage Manager - Soho Create Festival
Mentor/Facilitator - BFI Film Academy Bournemouth
Program Leader & Translator - Operation Groundswell
Volunteer - All Hands - Project Leyte
Mentor/Facilitator - BFI Film Academy
Creative Assistant/Videographer - National Youth Theatre
Education
Film and Moving Image Production - BA (Hons) - Northern Film School
Skills
Casting
Scriptwriting
Video Editing
Academic Writing
Assertiveness
Assistant Directing
Costume
Directing
Film Distribution
Physical Theatre
Producing
SFX
Stage Combat
Stage Management
Stagehands
Technical
Theatre