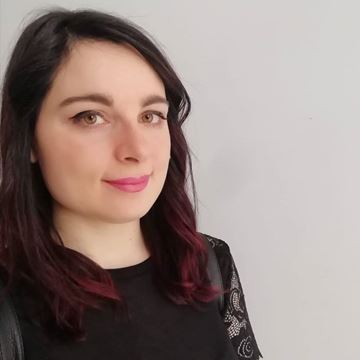 Ilaria Mosca
ScreenSkills High-end TV Costume Trainee
Location:

London

Career stage:

Entry

Freelancer:

Available
Production Safety Passport
I am a ScreenSkills 2019/20 High-end TV costume trainee, with a MA in Costume Design for Performance from LCF and a BA in Fashion Design.
I am interested in pursuing a career in the costume department for film and TV series, in particular for period and fantasy genres, but I am open to any kind of creative projects.
I worked in costume roles for films and short films, music videos, live performances, opera and musicals, and I have recently worked as costume trainee for the upcoming TV series "The Third Day", starring Jude Law and with costumes designed by by Annie Symons.
Being versatile, proactive and with great problem-solving skills, and able to work well both in a team or alone, I have gained an extensive range of technical skills relevant to costume designer, costume trainee, costume assistant and wardrobe assistant in both filmed and live productions, as well as dresser and production designer assistant.
I have good costume making and sewing skills, both by and and machine, and a deep knowledge of period and contemporary fashion. Moreover, my experiences both as the only costume person in some of the indie short films I worked on, and both as a costume trainee part of a big team in a High-end TV production, allowed me to get experience with breaking down scripts for costume requirements, putting together detailed continuity sheets and dealing with petty cash, buying and returns, alongside standby duties on set, costume alterations and breakdown, and assisting with the design and fittings for crowd.
I hold a clean UK driving licence and have access to a car, and I'm happy to relocate for work.
I am also available for dailies positions.
---
This ScreenSkills member holds a Production Safety Passport.
Safe Management of Productions
First Option
11th April 2019 - 11th April 2024
Work History
Costume Designer - Play With Fire - short film
HETV Costume trainee - The Great (Hulu)
HETV Costume Trainee - The Third Day (Sky/HBO)
Dresser - Swan Lake by Metthew Bourne
Costume designer - The Chair - short film
PA to director , wardrobe and dresser - For Now, music video for Lake Folks
Costume designer and maker - Demons - short film
Costume designer and maker - Morrigan - fantasy photoshoot
Costume designer - Old Beginnings - short film
Production design assistant - Excursion - feature film
Costume designer - Maureen - short film
Costume designer and maker - The King of Hearts - short film
Costume designer and maker - Far From Land - short film
Costume designer and maker - Mirror, music video for The Hod
Costume designer and maker - The Hunchback of Notre Dame - musical
Costume intern - San Carlo Theatre
Education
Costume Design - Master Degree - London College of Fashion
Fashion Design - Bachelor Degree - Seconda Università' degli Studi di Napoli
Skills
Adobe Illustrator
Adobe InDesign
Adobe Photoshop
Art Department
Graphic Design
Costume
costume breakdown
Costume Construction
Costume Design
costume making
Creative Drawing and Illustration
Dressmaking
fabric manipulation
Fabric Sourcing
Fashion Design
Film
Full Clean Driving Licence and Car
Hand-sewing
historical costume
Image Editing
pattern making
petty cash
Production Design
Prop Making
Set Design
Sewing
standby
Technical Sewing Skills
Wardrobe
Portfolio
ScreenSkills is not responsible for the content of these uploaded files.