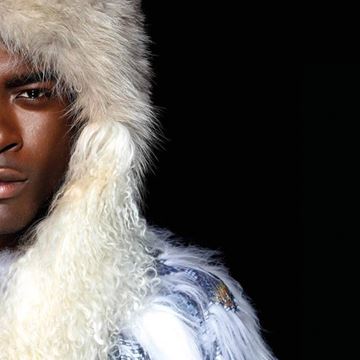 Alexandra Foster
Costume Trainee
Location:

London

Career stage:

Entry

Freelancer:

Available Soon
High-end TV Trainee Finder alumni
Hi my name is Alex, I am a ScreenSkills Costume Trainee alumnus for 2018-2019.
I am currently working as a Costume Trainee on Creeped Out 2 and have previously worked as a Principle Costume Trainee on 'Call The Midwife' Series 8.
I hold a first class honours degree in Fashion Textiles, graduating from Middlesex University. After graduating I started my career in fabric sourcing and buying for the fashion industry; I soon learned my true passion for costume and have been pursuing costume ever since. I have a love for costume breakdown, dying and standby however, I am eager and have a strong willingness to get stuck into any task, whether that be running errands or making cups of tea.

I thrive in a pressured environment and always go the extra mile. I love meeting new people and enjoy developing and maintaining professional relationships and rapport. I hold a full clean driving license and am willing to travel anywhere for an opportunity. I also hold an extended DBS certificate as well as a certificate in child safeguarding.

I am also looking for others to collaborate with on projects to continually develop and broaden my skillset. If you are interested in collaborations, please get in touch; I look forward to hearing from you.
Work History
Costume Trainee - Creeped Out 2
Principle Costume Trainee - Call The Midwife 8
Wardrobe Supervisor (Part Time) - Kidzania London
Textiles and Sewing Technician (Part Time) - Woodhouse Sixth Form College
Costume Assistant - Command Strips 3M TV Commercial - Designer Patrick Whelan
Costume Intern - West Jet Airlines TV Commercial - Designer Patrick Whelan
Costume Runner - Celebrity Haunted Mansion Live
Costume Runner - Celebrity Haunted Mansion High Spirits Live (Pre Show)
Costume Assistant - Curfew - Short Film
Casual Production Intern - Angels Costumes
Casual Production Intern - Angels Costumes
Warehouse Intern (Costume Organisation) - Angels Costumes
Production Intern - Angels Costumes
Wardrobe Assistant - Kidzania
Casual Alterations Assistant - Angels Costumes
Production and Alterations Intern - Angels Costumes
Wardrobe Assistant - TV Commercial - Kidzania | Wordley Production
Wardrobe Assistant - TV Commercial - Kidzania | Thomas Thomas Films LTD
Wardrobe Assistant - Ad Campaign - Kidzania | Jo Sax
Sales and Purchasing Assistant (Part time - Full time) - Love from Alice
Casual Dresser - Various Events and Productions
Fabric Sourcing and Design Assistant - River Island - Head Office
Buying Assistant and Sales - Rise
Sales and Visual Merchandising (Part time) - Rise
Education
Costume Breakdown: Dye Distress Enhance - Short Course with Jane Clive - Creative Media Skills: Pinewood Studios
Costume Essentials - Short Course with Patrik Milani - Creative Media Skills: Pinewood Studios
BA Hons Fashion Textiles - 1st Class Honours - Middlesex University
Production Arts - BTEC Subsidiary Diploma - Stockton Riverside College
Fashion and Clothing - BTEC National Diploma - Cleveland College of Art and Design
Skills
Adobe Photoshop
Adaptable
Administration
Alteration and Repairs
Attention to Detail
Budgeting
Buying
Calm Working Under Pressure
Colour Palettes
Communication
Continuity
Costume
Costume Ageing
Costume Breakdown
Costume Design
Costume Distressing
Costume Enhancing
Costume Packing
Costume Painting
Costume Plots
Costume Standby
Costuming
Creative Practical Problem Solving
Domestic and Industrial Overlockers
Domestic and Industrial Sewing Machines
Draping
Dressing
Dyeing
Embellishment
Embroidery
Eye for Colour and Texture
Fabric Knowledge
Fabric Manipulation
Fabric Sourcing
Fashion Design
Fast Learner
Fitting
Full Clean Driving Licence
Garment Construction
Hand-sewing
Highly Organised
IT
Mac and PC Literate
Maintaining Archives
Maintenance and Laundering
Managing Budgets
Manual Handling
Measurements
Microsoft Office
Mood boards
Motivated
Pattern Cutting
Pattern Drafting
Planning
Practical Sewing Skills
Print and Textile Design
Proactive
Purchasing
Research
Resourceful
Script Breakdowns
Silkscreen Printing
Sourcing
Stamina for Long Unsociable Hours
Styling
Surface Decoration
Surface Design
Team Work
Technical Demonstrating
Textile Art
Textile Design and Development
Time Management
Understanding of Fabrics
Wardrobe