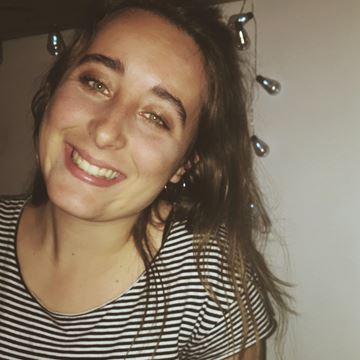 Emily Rippin
ScreenSkills High-end TV Production Office Trainee
Location:

Kent

Career stage:

Entry

Freelancer:

Available
High-end TV Trainee Finder 2019
Production Safety Passport
Hello!
I am Emily, a recent Film and Media Studies graduate hoping for a chance to further my career in the film and telelvision industry. I am described by my friends, family and work colleagues as bubbly, driven, kind, helpful and a team player! I have had numerous production and floor runner opportunities with BBC Music live events; such as The Proms. I recentley had an internship working on a new ITV drama due for release next year. But, I would love to expand my knowledge, experience and skills in the industry.
I have a number of hobbies and passions, ranging from binge-watching television dramas to religiously watching romantic comedies! I have a real borderline obsession with Scadinavian televison dramas, I love the dark gritniness. I loved them so much, that when the opportunity arose in the second year of my course to study in Denmark for six months through Erasmus, I jumped at the opportunity. I learnt so much about Danish culture, their fashion, language, art, buildings, music and amazing food (I did some studying too!) I made a number of life-long friends who are from around the globe, which was great because again fashion, language, traditions and food, especially food! I will treasure my time in Denmark, and because my experience was so eye-opening- I truely believe I grew as a person.
Other than Scadivavian dramas, I love seeing and experiencing live music, I enjoy going to concerts and festivals! I also consider myself to be extremley adventerous, I used to go on family camping holidays to Cornwall, where we would kyak, surf, and go on super long bikerides!
---
This ScreenSkills member holds a Production Safety Passport.
Safe Management of Productions
First Option
9th May 2019 - 9th May 2024
Work History
Front of House - Picturehouse Cinemas
Freelancing Production Runner - BBC Music Live Events
Intern/Production Runner - Bendit Productions Limited
Work Experience - BBC Proms
Student volunteer - Watersprite Film Festival
Student volunteer - Cambridge African Film Festival
Education
Film and Media Studies - Bachelor Honours Degree - Anglia Ruskin University (Cambridge Campus)
Communications (Erasmus Study Abroad Programme) - Bachelor Honours Degree - Roskilde University, Denmark
Skills
Adobe Photoshop
Adobe PremierePro
basic filming and editing
Public Speaking
Video Editing
Communications Skills
Confidence
Documentary Film
Organisational and Planning Skills
People skills
Problem Solving
Runner
Team Player
TV Production
Portfolio
ScreenSkills is not responsible for the content of these uploaded files.