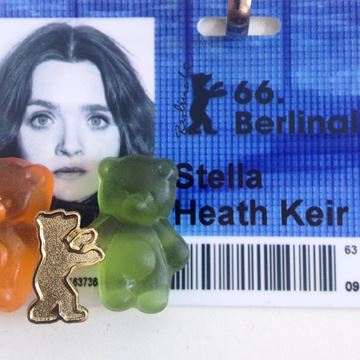 Stella Heath Keir
Film & TV Producer || Editor
Location:

Edinburgh

Career stage:

Early

Freelancer:

Available
I am a freelance producer, researcher and film editor looking for challenging, creative work within dynamic film and TV production companies.
I am ambitious, tenacious and passionate about the visual arts.
I graduated from The Edinburgh College of Art - University of Edinburgh, with a first class BA (Hons) degree in Photography and Art Context in 2013. My passion for lens-based media led me to teach myself to shoot and edit film in the final year of my degree. My graduate short film was selected for Futureproof, a prestigious exhibition of new photography and moving image in Scotland.
Post-graduation I interned for Andy Adams of Flak Photo as a digital exhibition production assistant and also worked on the BBC commissioned, BAFTA Scotland nominated, archive and music feature documentary film, From Scotland With Love, as lead archive researcher.
Praise for From Scotland With Love:
"Hypnotic" The Independent
"Hugely affecting" The Guardian
"Stunningly beautiful and moving" STV
I worked in Edinburgh for just under a year and then had the opportunity to move to Berlin. After completing a three-month internship with The Berlin Film Society, I decided to work freelance for international film production companies creating visual pitch packages and trailers for projects supported in development from funders such as Creative Scotland and Screen Australia. The full creative package cohesively details the thematic, atmospheric and visual landscape of my clients film.
I have just finished producing and co-editing a 6 part Berlin based web series called Translantics that is supported by TV network Arte and the Schirn Kunsthalle gallery. The show is an experimental hybrid of video art and traditional web series aesthetics; "a new series that acts as an extended gaze into an unsettling present" Dazed Digital.
It is not a typical web series in that it is the creative vision of Post-Internet artist Britta Thie. Berlin is the shows home but we also shot episodes in Frankfurt, New York and provincial Minden. Our avant-garde episodes are elevated with weird, wild and wonderful cameos from performance artists such as Mykki Blanco, or high fashion models such as Lily McMenamy.
Praise for Translantics:
"Analog nostalgia in binary codes" Spiegel
"Portrait of a generation" ID Magazine
"Digital era soap opera" V Magazine
I have been working with the band Sky White Tiger to create a series of videos about their recording session of '2 Late 2 go' at Vox-Ton Studios in Berlin last summer with Chris Taylor from Grizzly Bear.
I also recently compleated another exciting audio visual collaboration, this time with Emma Pollock and Chemical Underground. I conceptualised, produced and edited a music video for her leading single 'Parks and Recreation' off her long-awaited new album In Search of Harperfield.
Praise for In Search of Harperfield:
"Beautifully crafted…an excellent record" MOJO [4/5]
"In a field of her own" UNCUT [8/10]
"Just stunning…an immensely rewarding listen" MUSIC OHM [4/5]
I am currently in post-production on an experimental video art peice called 'Tomato Luv' directed by artist Maansi Jain.
I am also lucky enough to have worked in a wide range of creative businesses, from galleries to A list film and arts festivals, in both voluntary and paid positions, since (before!) I was old enough to work!
Education
Photography and Art Context - First Class BA (Hons) - Edinburgh College of Art, The University of Edinburgh
Art and Design - Foundation Degree - Distinction - Chesterfield College
Skills
Adobe Photoshop
Final Cut Pro
Photography
Video Editing
Visual Storytelling
Creativity
Digital Film
Picture Research
Research
Social Media
Portfolio
ScreenSkills is not responsible for the content of these uploaded files.