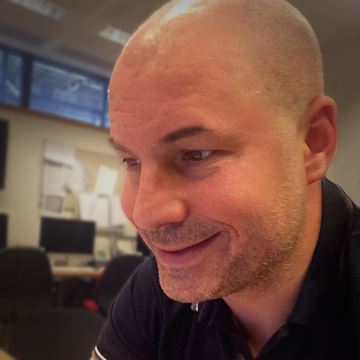 Tom Mavro-Michaelis
Media Production Trainer / MD Cut-it.tv Training
Location:

London

Career stage:

Experienced

Freelancer:

Available
Managed training and consultancy business since 2001
Trainer and technical consultant
Development, design and delivery of bespoke training courses
Delivery of hands-on and remote training
Extensive experience of many various modern training methods
Extensive presentation experience
Excellent communication skills
Video production experience
Wide technical and software knowledge
Video production services
Experienced and respected trainer, training consultant and technical consultant. Vast experience of assessing a clients training requirements, advising on training strategy and then designing and delivering bespoke training courses, including training materials and written documentation.
Work with clients to assess and evaluate training delivery is comprehensive and relevant.
Providing consultancy and course development services across a number of delivery mediums for high profile clients and large organisations
Fantastic communication and presentation experience. Delivery of individual and group hands on training to a huge range of people of various skill levels and backgrounds.
Present and design training seminars delivered to large audiences. Development of e-learning resources such as training DVD's and Webinars.
Annual host at the Workflow Village at IBC; working with range of broadcasters and manufacturers to develop seminars and presentations on innovative workflows and media technology.
Regularly manage team of freelance trainers.
Extensive network of contacts within the training, media and IT industries.
Work History
MD Cut-It Training - Mavcom Ltd
Senior UK Product Consultant - Computers Unlimited
Product Specialist - Rack Group
Technical Support Analyist - Principal Distribution
Education
Electronic Imaging & Media Communication - BSC Hons - University Of Bradford
History - BA Hons - Newcastle University
History, Economics, Sociology, Maths - A Levels - South Craven Secondary School
Skills
Adobe Photoshop
Adobe PremierePro
After Effects
Photoshop
Training
Training and Education
Adobe After Effects
Adobe Photoshop CC
Adobe Premiere CC
Apple Final Cut Pro X
course development
Desktop Editing
Digital Editing
Digital Video
Editing Video
Final Cut Pro
Final Cut Pro 7
Keynote
Motion
Motion Graphics
Premiere
Speed Grade
TV and Online Video Production