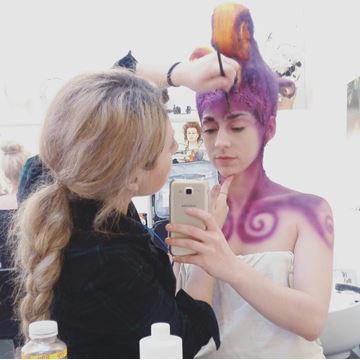 Nikoleta Tzani
Freelance hair, make-up and Prosthetics Trainee
Location:

Hebden Bridge, West Yorkshire

Career stage:

Entry

Freelancer:

Available
I am a passionate and innovative make-up and prosthetics artist who can communicate with a diverse range of people. I have followed directions as well as taken initiative throughout my career working both individually and as part of a team. I have explored a variety of different techniques within make-up, prosthetic and hair styling during my time in education and know having this variety ensures I always deliver the best results. I am a very sociable person with a strong understanding of the etiquette required whilst on set and will always strive to exceed peoples expectations.
Since completing my BA Degree in Makeup and Special Effects with a First Class Honours, I worked as a makeup, hair and prosthetics artist on a low budget TV pilot, did dailies as a junior Hair and Makeup artist with the TV series 'Marcella 2' for ITV in 2017. Since then I have been working as a Technician for the Media Make-up with Special Effects course at Bradford College.
I'm always looking for opportunities to collaborate so if you have a project in mind, please don't hesitate to contact me.
Work History
Application Station Exhibitor - The Prosthetics Events
Special Effects Make-Up Artist - One Knight Production
Hair and Make-up Artist at No Filter TV Pilot (one episode) - Rotunda Films
Junior Make-up Artist - dailies 'Marcella' (Series 2) - Buccaneer Media for ITV
Work Experience, Shadowing Make-up Designer Melanie Lanihan on set - Overshadowed' of Rollem Productions for BBC3
Makeup, Hair and Prosthetic Designer on Short Film: 'Help Me' - short flm created by students from Bradford college
Work Experience, Shadowed Make-up designer Melanie Lenihan on set. - Carl Strathie / GSP Studios
Halloween Make-Up Transformations for breakfast presenters during Pulse One Radio broadcast - Pulse Radio
Make-up and Special Effects Assistant on short film "Within The Fray June " - Director :Richard Summers-Calvert
Makeup, Hair and Prosthetic Designer on film "Alice " - short fllm created by students from Bradford college and flmed on locations in Hondarribia (Spain)
Make-up Artist - Bingo / Short Student film of North Film School
Education
Introduction to Barbering - One day Masterclass - Bradford College
Prosthetics Application - One Day Masterclass - Shaun Harrison Academy
Life Casting, Moulding and Sculpting Course - 5 Day Masterclass - Pinewood Studios - Creative Media Skills
Period Hair and Wigs - 2 days Master class - Master class with Carolyn Cousins through screen Yorkshire
HETV Industry Induction - Induction Course Through Creative Skillset and Screen Yorkshire - Screen Yorkshire HETV Boostcamp 3 Days Induction
prosthetics - Online Courses - Stan Winston's School of Character Arts
Media Make-up with Special Effects - Bachelors Of Arts With First Class Honours - Bradford College, awarded from Tesside University
Diploma in Fashion, Theatre, Media Hair & Makeup - VTCT Level 3 - Leeds City College
Drama & Acting - Level 3 Institute of Higher Education qualifcation - Melissa School of Art, Athens,Greece
Skills
Aging (face/hand/neck)
Airbrushing
bald cap fabrication and application
Basic Hairdressing: Straightening / Waving / Braiding
Bilingual
body casting
Body Painting
Casualty Make-up
character makeup
Dressing and Applying Facial Hair
Emergency First Aid at work
Facial Lifecasting
Hair and Make-up
HD make-up
Historical Make-up & Hair
knotting, styling and fitting postiche
Make-up
Microsoft Office
Mouldmaking
Period Hair
Period Make-up
Prosthetics
prosthetics fabrication
prosthetics sculpting
Sculpting
sculpting, fabrication, application and colouring 3D transfers
Straight Corrective, Glamour, Period
Tattoo Cover