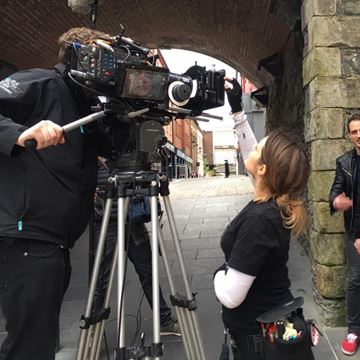 Jackie Read
Camera Trainee, Camera Assistant
Location:

London

Career stage:

Entry

Freelancer:

Available
Hello! My name is Jackie Read. I currently live in West London, but I was born and raised in Philadelphia, Pennysylvania. My greatest passion is storytelling. As a kid, I dreamed of being an actress and I pursued that dream right through Univeristy where I studied Theatre and Media Communications.
While completing my studies, I found work at a local production company where I started learning about cameras and it was then that I realized my love for storytelling could be far better fulfilled through camerawork than through acting. I was enthralled by the endless array of decisions to make with regards to space, lighting, movement, and perspective and how thoughtfully composed images had the power elevate stories. So, after Uni, I kept pursuing work behind the camera and I've never looked back.
I used to work as a camera operator, self-shooting for documentaries, events, and promotional content. I was often unfufilled because my real aspiration is to work on narrative productions where there is a lot more opportunity for creative visual storytelling. I decided to go for a Master's Degree in Cinematography in order to gain a better understanding of the industry and figure out what I could do to transition my career.
The course completely reinvigorated my passion for filmmaking and my desire to work as a Director of Photography on feature films. I am more sure than ever that this is what I want to do with my life, but I know that being a successful DoP means so much more than just the creative work. It's a tough job with a lot of responsibility and I want to do everything I can to prepare myself for that role.
After my course, I began taking on as many opportunities as possible to work and assist on short films. This experience has given me a solid understanding of set heirarchy and allowed me to build important skills like setting up remote wirless systems, running and fixing cables, laying marks, running the clapper board and even occasionally pulling focus. Last year, I took on a role as a Kit Room manager at a local production company, which has helped me to take important strides in terms of understanding and maintaining high-end equipment.
These opportunities have given me the confidence to transition into work on feature films and I'm really excited to now be seeking opportunities to work as a Camera Trainee. I'm really eager to start from the ground up and learn from established industry professionals. I know I have a lot to learn, but I'm also confident I can be an asset as a trainee because I am coming to the field with a solid technical understanding of high-end cameras, a good foundational knowledge of filmmaking and set etiquette, and, most importantly, a lot of life and work experience that has made me into a resourceful problem-solver, an efficient multi-tasker, and a positive team player.
Beyond filmmaking, I love writing, running, reading, and traveling. I love people and culture and I am always seeking out expereinces that offer me exciting new challenges and new perspectives. I'm hard-working, outgoing, inquisitive, and even occasionally funny so I think I can make a great addition to any crew!
Work History
Kit Room Manager/Camera Crew - Chocolate Films
Camera Assistant/Camera Trainee Short Films, Commercials, Documentaries - Freelance
Videographer/Self-Shooter - Freelance
Cruise Staff - Royal Caribbean International
Production Assistant - West Chester Digital Media
Education
Filmmaking: Cinematography - MA - Goldsmiths University of London
Theatre and Media Communications - BA - West Chester University
Skills
Photography
Video Editing
Adobe Creative Cloud
Camera Assisting
Camera Operating
Creative writing
Documentary Film
Focus Pulling
Lighting
Lighting Camera
Portfolio
ScreenSkills is not responsible for the content of these uploaded files.