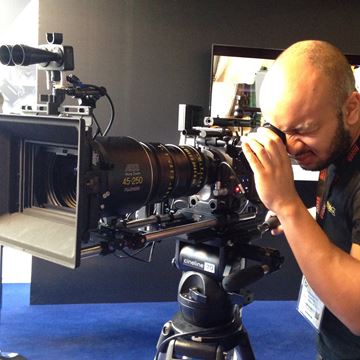 Riordan Brown
Camera Trainee BBC1
Location:

London

Career stage:

Entry
"Rio has been a really good guy. He's worked really hard learning all the kit and systems. He's very polite and helpful. I look forward to working with him again. I would recommend him to other camera departments."
Haydn Thomas Focus Puller/ Camera operator (The Royals Series 2)
Hi Lovely People!
My name is Rio, I'm 23 and live in South East London and am pursuing my ambition of becoming a cameraman including DIT.
I am currently a Camera Trainee at the BBC.
I have been a Camera Trainee on The Royals for E! Network (Series 2) and Love Nina (BBC1).
I have recently finished a Runner/Camera Assistant role on an ob doc for BBC and have recently undertaken work experience on Beowulf ITV. I spent a fantastic day lying in mud holding the boom, kit management and running!
I've been a Camera Operator for Promax UK and have work experience with Sky, ITN and CBS News.
Being a Trainee would help me gain invaluable experience with camera operators, DOP's, gaffers, AD's and Directors. I want to learn how a production works from the bottom up.
Ever since I found myself spell bound watching The Seven Samurai as a 9 year old, I have been fascinated by TV and film drama. Later, Don McCullin's storytelling through the lens inspired me to look for the truth in every story but I always returned to the Seven Samurai which taught me how photography and the use of light could enhance story-telling to reach a higher level of emotional truth.
I am passionate about learning the craft of camera operation, lighting and media management and would like the opportunity to demonstrate my skills in this setting!
I have taken the initiative and undertaken work experience as a Runner with So You Wanna Be In TV? and various broadcasters such as ITN, CBS News and Sky. Although my ultimate ambition has always been to work in TV drama, I felt that news would provide me with a good grounding in camera operation, kit management and lighting under pressure.
Self-taught in editing with FCP and Adobe Premier Pro, using different cameras including Canon 5D Mark II, 7D and Sony EX3.
Love: Anima, manga, films, gaming, VFX, VR, High End TV and kebabs!
-Ends-
Work History
Camera Assistant Runner - BT Sport
Camera Assistant/Offline Editor - So You Wanna Be In TV?
Camera Assistant - Tech London Advocates
Camera Assistant - Promax UK
Camera Operator - London Food Tech Week by YFood
Camera Assistant/Runner - BBC1
Camera Assistant - Decapo
Camera Assistant - So You Wanna Be In TV?
Camera Assistant (Incl DIT) - See-Saw Films (Love Nina)
Camera Assistant (Incl DIT) - Promax UK
Camera Assistant (Incl DIT) - 3 Mills Studios (The Royals)
Camera Assistant (Incl DIT) - ITV (Beowulf)
Cable Basher - ITN (News)
Education
Advanced Level Apprenticeship in Creative and Digital Media - Extended BTEC - London Sam
Skills
Video Editing
Camera Assisting
Data Management
Running