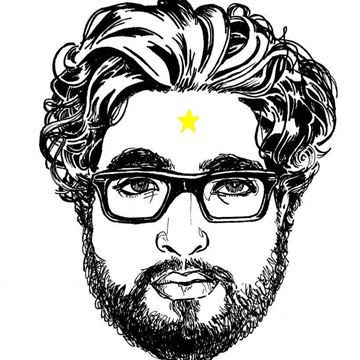 Karim Flint
Screenwriter / Development AP / Researcher
Location:

London

Career stage:

Early

Freelancer:

Available
I'm a London based creative who's passionate about what I do. I also play well with others, so I'm always looking to collaborate on smart, compelling and hopefully fun projects.
Since graduating from the London Film School I've worked on everything from documentary feature films, to comedy Web series. Working alongside some incredible creative talents I've developed a pretty diverse skill-set, though writing has always been my primary strength.
Over the years I've employed my literary abilities as both a journalist and a screenwriter. My articles have been published in print and online, and I've also gone on to option several screenplays.
As a freelancer for the Metro Online I wrote primarily for their entertainment section. My articles covered a range of pop culture subjects and events, and links to my work can be found at http://metro.co.uk/author/karim-flint-for-metro-co-uk/
As the winner of StoryCircus, an international competition for new screenwriting talent, my winning script BITE ME was optioned for 1,000,000 Yen by Marza Animation Planet, the Tokyo based feature film production arm of videogame developer Sega.
In 2014 I co-wrote, edited and published the WW1 graphic novel TO ARMS! Crowd-funded via Indiegogo the book featured work from over two-dozen international artists, and was profiled as part of the British Library's Comics Unmasked exhibition.
More recently I've branched out into TV development. At Hey Buddy Films I helped shape both their factual and scripted slate. Pitching directly to major broadcasters my work with their development team secured us a 60min documentary commission on the U.S. gun lobby for BBC Factual.
I like to be involved in community projects, and at the SPID Youth Theatre I run classes for young people ages 8-25, teaching them the basics of screenwriting. Together we've created a series of 5min radio plays, which were performed by the kids and featured on SOAS Radio.
Radio is a medium in which I've become increasingly involved, and earlier this year I was invited to contribute to THE UNSEEN HOUR. Performed in front of a live theatre audience this sci-fi / comedy series went to the 2017 Edinburgh Fringe Festival. My episode METIS can be found at https://www.unseenhour.com/listen/2017/5/31/6lykmyrq8208e6e76cs9pfpbk4x8qb-fbrbc-f933y-amd7x-gfz78
This year saw me becoming more involved in theatre, and I was awarded the inaugural drama seed fund from Previously... Scotland's History Festival. This initiative was set up to foster the development of new Scottish history plays with a cash grant, research and dramaturgical support. My play TUMBLING LASSIE will be performed at the festival in 2018.
SLAMinutes is a live event featuring the work of 30 artists, each of whom are given a week to prepare a 60sec performance piece on a current event topic. My micro-play DO PRIME MINISTERS DREAM OF ELECTORAL SHEEP was performed as part of the first show at The Crypt Gallery in King's Cross.
Myself and two other mildly irritated creative types have formed Angry 3, an indie production company that will allow our extensive network of fellow freelancers to pool our resources. Currently we're developing the feature film HALL MONITORS as part of Modern Tales, a BFI funded scheme for BAME, LGBTQ and women filmmakers.
Work History
Co-Founder / Screenwriter / Producer - Angry 3
Freelance Reporter - Metro Online
Script Facilitator - SPID Theatre
Development AP / Researcher / Screenwriter - Hey Buddy Films
Writer / Editor / Publisher - Limehouse Comics
Freelance PA / Researcher / Casting Assistant - Smuggler
Temp Office Admin / Production Assistant - Centre Screen Productions
Screenwriter - Marza Animation Planet
Campaign Consultant - Grand Visual
Content Producer / Location Scout - Wimbledon Studios
Studio Manager - Foreign Office Design
Production Intern - Channelflip
Story Editor / Researcher - Art Light Films
Visitor Assistant - Natural History Museum
British Museum - Membership Assistant
Post Production Runner - Crow TV
Education
Screenwriting - MA - London Film School
Cultural Studies - BA 2.1 - University of Leeds
Skills
Adobe Illustrator
Adobe Photoshop
Scriptwriting
Apple Final Cut Pro X
Commercials
Digital Journalism
Filmmaking
Journalism
Journalistic Skills
Keynote
Microsoft Office
News
Picture Research
Pitching/presenting and proposal writing
Presenting
Producing
Reporting
Research
Short filmmaking
Television
Television Production