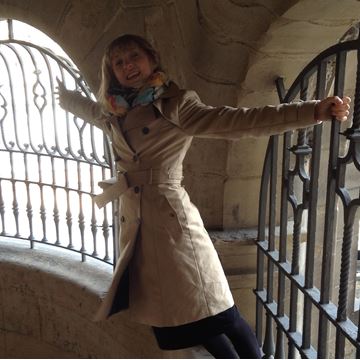 Rachel Johnson
Choreographer/ Videographer/ Editor. Director of company Experiential
Location:

London

Career stage:

Early

Freelancer:

Available
Hello
I am a freelance choreographer, film artist, and director of Experiential Dance based in London. I am interested in mixed-media art forms, immersive and participatory performance, and working collaboratively.
I understand dance to be movement and so question why dance viewing is traditionally passive? I desire to give audience members an active role- to give them 'the freedom to wander, share in and experience the performance physically and emotionally rather than just visually.' I founded Experiential to give audiences opportunities to not only see dance but to fully and personally experience it.
Experiential's production 'Bridging the Void' toured nationally in 2015 through Arts Council funding and due to its success will be re-touring in Spring 2016. Film is a big part of my work and I have had film work commissioned by Pure Arts. Film has an unlimited capacity to provide new angles and perspectives on the physical relationship between the body and its environment.
I love the challenge of creating work for unusual spaces and different contexts. This includes: installations, theatre performances, film screenings and site-specific work. Previous work has been presented at the National Gallery, Vibe Gallery, Brighton Festival, Trinity Laban Cottage, Pure Arts Gallery, St Mary's Church, Battle.
Working collaboratively is extremely important to me. I am very keen to develop ideas that can be strengthened and advanced through the expertise of many different people. I have previously worked with designers, musicians, architects, cinematographer's psychologists and digital programmers.
Meeting new people, starting creative chats, and sharing and receiving advice are the best accompaniments to a tea break. Feel free to get in touch.
Work History
Associate Artist - Pure Arts
Director, Choreographer & Film Artist - Experiential
Research Assistant - Welcome Collection Exhibition: 'Thinking with the Body: Mind and movement in the work of Wayne McGregor/ Random Dance
Assistant Dance Teacher - Dame Allan's School Newcastle Upon Tyne
Education
Choreography - Ma - Trinity Laban Conservatoire of Music & Dance
Dance - 1st Class Ba Hons - De Montfort University, Leicester
Contemporary Dance - Foundation - Newcastle College
Skills
choreography
Final Cut Pro
Management
Video Editing
Contemporary Dance
Digital Film
Producing