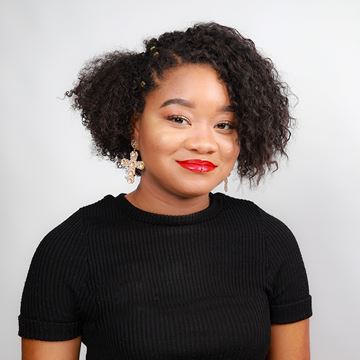 Ripley Dale-Gulston
Screen Skills Hair and Make-up Trainee
Location:

Birmingham/London

Career stage:

Entry

Freelancer:

Available
From a young age Ripley's favourite movie was Mrs Doubtfire, she was fascinated with the way Robin Williams' character was changed from a middle-age father to a cute elderly old lady. Her mother mentioned to her that the people who created the prosthetics and special effects were called "Make-Up Artists". That made Ripley become interested in prosthetics and special effects. As a teenager, she found the beauty make-up side a little more interesting, especially experimenting with new beauty trends. In addition, Ripley is captivated with cinematic make-up and grew to adore the filmography aspects, which helped her understand character make-up and aided a fondness of period hair and make-up.
Ripley has graduate with a first-class BA Honours in Specialist Hair and Make-up from University College Birmingham. While studying at university, she worked at the university's student specialist make-up technician.
This job aided her to understand the importance of COSHH products, ordering specialist make up, using and fixing equipment in the hair, make-up and prosthetics industry. Additionally, she is able to gain more interactions working with different people and funded herself and her kit.
​
Ripley has honed her skills and education to be a Hair, Prosthetics and Make up Artist. She has achieved her Level 2 Hair and Media Make-Up and VRCT Level 3 Diploma in Theatrical, Special effects Hair and Media Make-Up. Additionally, she has a City & Guilds VRQ Level 2 Diploma in Women's Hairdressing which she studied at college which helps her have precise skills in hairdressing and helps her improve techniques in hair. Over the years she has had a number of beauty consultant roles which helped her understand different skin tones, shades and types.
She is located between Birmingham and London for work. In addition, Ripley currently works as Retail Make-up Artist at MAC cosmetics. While working in retail Ripley has worked on a film set and work experience backstage for the catwalk at London College of Fashion.
​
Ripley has gained experience working with numerous industry professionals such as:
Assisting Andrew Whiteoak at The Rep Theatre (2017)
Assisting Alyn Waterman at his studio (2017)
Shadowing Alyn Waterman on set, at BBC web series 'Man Like Mobeen' work experience (2017)
Working on student films as a Make-up Artist for Dan Wilson and Martin Sims' Foot in the Door Productions (2018)
Work experience at The Birmingham Repertory Theature for the production Woyzeck (2018)
Dailes Crowd Hair & Make-up Trainee for 'FourWeddings and a Funeral' (2018)
Crowd Hair & Make-up Trainee (Screenskills) - '1917' (2019)
​
Ripley is a hard-working, flexible worker used to long, unsociable hours and being on her feet yet, keeping a friendly, vibrant and enthusiastic energy whilst working. Ripley is available to work, whether it's long-term, full term, freelance or collaborating with other industry professionals.
Work History
Main Team Hair and Make-up Trainee - SkySeries: Intergalactic
Crowd Hair and Make-up Trainee - Last Night In Soho - Edgar Wright
Main Team Hair and Make-up Trainee - BBC: Moving On
Crowd Hair & Make-up Trainee (Screenskills) - 1917- Directed by Sam Mendes
Crowd Hair & Make-up Trainee - Four Weddings and a Funeral
Assistant to Joesph Koniak & Team - London College of Fashion
Paid Hair and Make-up artist for Caron Wheeler - Soul II Soul management
Hair and Make Up Artist - The Birmingham Repertory Theatre – Woyzeck
Hair and Make Up Artist - The Thrill of Love (The Crescent Theatre)
Paid Make Up Supervisor - And then there were none (The Crescent Theatre)
Make Up Artist - Foot in the Door Productions (Dan Wilson and Martin Sims)
Paid Make Up Supervisor - The Lion, the Witch and the Wardrobe (Crescent Theatre)
Hair & Make Up Work Experience - Man Like Mobeen (BBC Web Series)
Assistant Make Up Artist to Andrew Whiteoak - Alice in Wonderland Gala (REP Theatre)
Hair& Make up University placement - Alyn Waterman Make-Up & Hair Studio
Education
Specialist Hair & Media Make-Up - BA (Hons) - University College Birmingham
Spanish - Beginners Level - University College Birmingham
Theatrical, Special effects Hair and Media Make-Up - VRCT Level 3 Diploma - South Thames College
Afro & European Women's hairdressing - City & Guilds VRQ Level 2 Diploma - South Thames College
Hair and Media Make Up - City & Guilds NVQ Level 2 Diploma in - South Thames College
Skills
• Great at researching
•Resourceful
Can be on my feet or long amount of time
courteous
Creative
Eager to learn
enthusiastic
Excellent time keeper
Fantastic knowledge in historical ethos and pop culture
Flexible
Good at listening
Hard-working
Helpful
motivated
Punctual