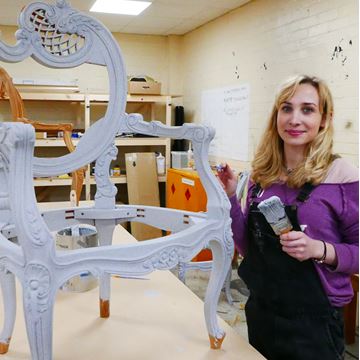 Sara Kuna
Art Department Assistant
Location:

Yorkshire/Northern England. Willing to relocate for work

Career stage:

Early

Freelancer:

Available Soon
I am a Production Design Graduate from the Northern Film School in Leeds. I am looking for a challenging, fast-paced environment within film and television to utilise my creative knowledge and develop my designing skill-set further.
While growing up in Poland, I have developed a deep fascination for exploring the uniqueness and nuances of different lifestyles, cultures and perceptions. The combination of having the privilege to travel while using a camera to see the world from many different angles inspired me to pursue a career in motion picture. I continue to expand my visual library working on short films as well as big budget productions. I have acquired a distinctive sense of space, so important when composing technical drawings during the initiation stage of designing a set. My sensibility and encouragement for innovation notably contribute to the presented in my work diverse range of aesthetics.
Throughout my degree I was continually drawn to the production design aspect of filmmaking - The university supplied me with an opportunity to complete floor plans, elevations and a concept design of a set build using SketchUp. I also acquired the knowledge necessary to confidently work in Adobe softwares such as Photoshop and Lightroom. At university I took the opportunity to get involved in as many of the student filming projects as possible, where I became known as our resident production designer. In addition to teaching me a lot about working as a team and creating excellent sets with no budget, these films introduced me to the principles of gilding, upholstery and sewing.

Last summer, between years at university, I worked as an art department assistant on a commercial for entertainment app HotStar APK with Creative Agency Lowe and director Nikhil Rao. This project involved travel to Mumbai where I assisted in all areas of the art department in a challenging and unfamiliar environment, a fantastic experience and steep learning curve.

As a consequence of my diligence and hard work at university, my graduation project was accepted to, and screened, at the annual BAFTA-recognised Aesthetica Short Film Festival in York, one of only a handful of graduate films to achieve such an honour. Shortly after graduation and in the face of extremely strong competition, I then successfully landed an internship in the art department on the second series of the major ITV drama, "Victoria". Working to Production Designer Michael Howells, I was able to get involved in prop making, set decorating, sourcing and hiring, budgeting and petty cash buying.
Most recently I participated in an industry skill-up scheme run by Screen Yorkshire with support from Creative Skillset. This course, again very competitive for places, gave me an excellent insight into life and work at the cutting edge of the creative industries, further supplementing all of the skills I have gained in recent years.
My expertise covers multiple areas such as construction, prop making, model making, set decorating as well as sourcing, hiring, budgeting, petty cash buying. I have a strong personality which helps me solve problems I meet. I do have a full clean driving licence. I am a patient and punctual fast learner, detail-oriented and creative.
I hold a Full, Clean UK driving licence, and I have my own car.
I am guided by a firmly held belief that respect and passion for the industry can facilitate for a rewarding career progression.
sara.kuna2@gmail.com
07449181578
Work History
VICTORIA 2, Art Department Intern - Mammoth Screen, PD: Michael Howells
MANSFIELD 66/67, Art Department Intern - The Ebersole Hughes Company
MAKE UP iFeature, Art Department Assistant - Make Up Film Ltd., PD: Sofia Stocco
ILKLEY, Art Department Assistant - Cow and Calf Pictures
HOTSTAR APK Commercial, Assistant buyer - Creative Agency
DOBAARA: SEE YOUR EVIL, Stylist Assistant - Lee&Thompson
Education
Filmmaking/ Specialism: Production Design - BA First Class Hons - Northern Film School, Leeds
Access to Video, Photography and Digital Publishing - Access to Higher Education Diploma - Lambeth College, London
Skills
Adobe Photoshop
Adobe PremierePro
Final Cut Pro
Advanced Pattern Cutting and Construction Skills
Carpentry
Continuity
Prop buying
Prop Making
Prop sourcing
Scenic Art
Set Dressing
SketchUp
Upholstery skills