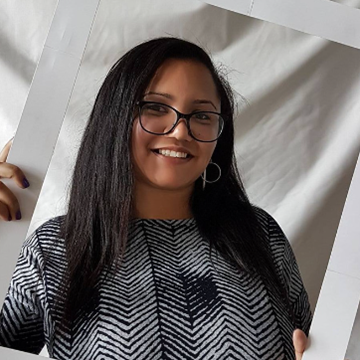 Georgina Bobb
MD of Connect2TVCoaching
Location:

London

Career stage:

Experienced

Freelancer:

Available Soon
About me
With experience working as a TV specific employability training provider & for a learning and development company. I have an innate passion for helping people from BAME and disadvantaged backgrounds enter and remain within the industry. I seek a role which allows me to combine both industry experience, knowledge and passion to drive for an inclusive and diverse industry moving forward. In addition to this I also have experience both production and editorial. I am a production professional, with the knowledge, experience, attention to detail and tenacity to deliver all production aspects to deadline from concept to delivery. Keen to continue building on my production & organisational experience & abilities to support & manage productions.
Connect2TVCoaching
Connect2TVCoaching is an employability business dedicated to ensure you achieve career success within the creative media industries.
Our main expertise is within television and film and we provide a variety of services to support you in achieving your career ambitions and enhancing your career prospects.
We have delivered numerous employability training programmes, written applications for and have coached and mentored our clients which have resulting in our clients receiving jobs at various media production companies and organisations including The BBC, Jamie Oliver Productions, Mama Youth Project, Naked Entertainment amongst others and we take great pride in ensuring our clients are empowered, educated and informed – equipped and ready to achieve their career goals.
Work History
Post Production Secretary - Mentorn Media
Founder and CV Writer - TV Jobs UK
Production Manager - Mastermind Media
Production Freelancer - Self Employed
Location Runner and Live Logger 'Tumble' - BBC
Logger and Clips Researcher 'Got To Dance UK' - Princess Productions
Logger 'Railroad Alaska' - Windfall Films Ltd
Logger - Princess Productions
Location Runner and Live Logger - Maverick Television
Transcriber 'Britain's Got Talent' - FremantleMedia UK (formerly talkbackTHAMES)
Logger 'Sexy Beasts' - Lion Television
Audition Runner 'First Dates' (Series 2) - Twenty Twenty
Logger 'The Undateables (Series 3)' - betty
Production Assistant 'Monster Moves' - Windfall Films Ltd
Gallery Logger 'First Dates' - Twenty Twenty TV
Production Assistant 'Rise of the Machines' - Windfall Films Ltd
Location Runner 'Royal Chelsea Flower Show' - BBC
Junior Researcher - 'World's Weirdest Body Parts' and 'World Weirdest Farms' - WAG TV
Junior Archive Researcher/ Junior Researcher - 'History Connections' - Wag TV
Work Experience/Runner - Hat Trick Productions
Work Experience (Voluntary) Production - Fever Media
Audience Researcher - Applause Store Productions Limited
Marketing Intern - Virgin Media
Team Leader - NXG TV and Workshop Facilitator - NXG Project
Student Ambassador - Ravensbourne
Creative Practitioner - The Albany Theatre
Freelance Media Assistant and Workshop Facilitator - Ability Media
Freelance Producer, 1st AD, Production Assistant - Independent
Education
Content Creation and Broadcast - BA (Hons) - Ravensbourne College of Design and Communication