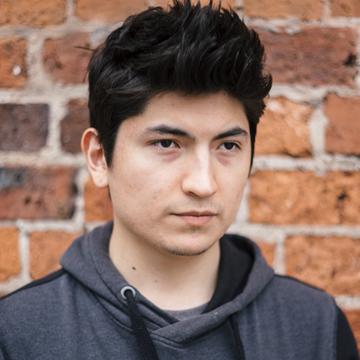 Camilo Angelo
Floor Runner
Location:

London, UK

Career stage:

Entry

Freelancer:

Available
I am a highly passionate and motivated Northern Film School graduate looking to play my part in bringing magic to the big and small screen.
Born and raised in Bolivia, South America, I moved to the UK at the age of 13 to pursue a career in Film and TV. I have studied filmmaking at the Northern Film School in Leeds and graduated in June of 2018.
During my time at the Northern Film School, I familiarised myself with the various film production crew roles and have strengthened my overall understanding of filmmaking with hands-on experience. From the various practical and theory-based assignments, I gained a robust number of skills in film production, directing and writing.
As part of my BA1 module, I have produced and developed a short documentary named Man On Bike which has been nominated for a Royal Television Society Student Award and it has been showcased in London at NAHEMI Eat Our Shorts Student Film Festival, the BFI and the BAFTA qualifying ASFF in York. Most recently, it has premiered at the 2018 Big Sky Documentary Film Festival in Montana, US.
During February and May of 2018, I undertook two-week-long placements on an independent feature film from Cow & Calf Pictures Ltd. and CBeebies' Gigglebiz as a floor runner. These opportunities allowed me to familiarise myself with the day-to-day workflow of a professional production environment both on studio and on location.
Alongside this, I have worked independently on various small-scale projects for commissioners such as the British Heart Foundation and The West Yorkshire Playhouse - where I was part of a team of writers tasked on developing a short documentary idea about the curators of the Every Third Minute - A Theatre Festival about dementia.
Currently, I also work as an independent filmmaker. My most recent projects included a collaboration with Bishop's Stortford Baptist Church, creating a short documentary on the church's bicentenary and impact on its community, and a promotional video for Stort Valley Schools Trust.

C: 07449 758565
E: kangelo@hotmail.co.uk
W: www.camiloangelo.com
Work History
PAPERCHASE, Floor Runner - PE Media
GIGGLEBIZ, Floor Runner (Work Placement) - Cbeebies, BBC
ILKLEY, Floor Runner (Work Placement) - Cow & Calf Pictures
Education
Filmmaking - BA (Hons) - Leeds Beckett University - Northern Film School
Fine Art - BTEC Level 3/4 Foundation Diploma - Cambridge Regional College
Skills
Adaptable
Communication
Documentation
Film Production
Flexibility
MS Office
Organisational and Planning Skills
Scheduling
Script Breakdowns
Spanish
Storyboard
Team Player
Walkie/Radio Etiquette