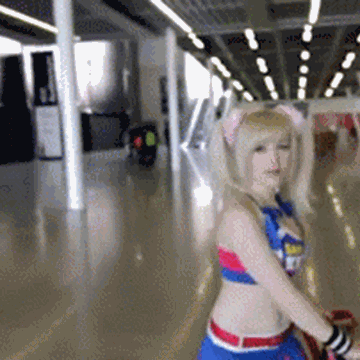 Abipop
Senior Sales Assistant @ Thorntons - Core Team Member/Brand Ambassador/Costume Character @ Nintendo
Location:

Eastbourne | London
Hello everyone! I'm Abi! or Abipop/ アビーポップ around the interenet!
5ft1.5, 20 years old and from a little town in the UK!
I'm a YouTuber, Gamer, Dancer and Cosplayer~!
I tend to sit on my laptop all day and spontaneously burst into dance. I'm currently studying Japanese! はじめまして、よろしくね
I went to Tokyo,Japan in Oct 2014♪ Going again in April 2015! SO EXCITED! ♡Akihabara♡Harajuku♡ Shibuya♡ <-- Best places to make your wallet cry haha!
I'd love the chance to become an idol... We can dream right? x3
I work in a chocolate shop, for Nintendo & a Maid café in the UK (Maids Of England)~! I'm hoping to be able to audition for Tokyo Disneyland!

♡ Animal Crossing ♡ LoL♡ TsumTsum ♡ Fantasy life ♡ Disney's Magical world... are my most favourite games.
I like cake a lot.... Baking is always fun! ヽ(´。>ω<。`)ノ
I have dark blonde hair & Green hazel eyes~♪
♡I adore Disney and cute things in general~!♡♡ Kyary Pamyu Pamyu is my idol :3 We share the same birthday & I was lucky enough to see her perform live twice! ♡Himeko Sakuragawa is another idol of mine~! I also met her when I was in Japan!♡
My favourite colour is baby pink, baby blue & (Navy blue & red together)♪
Did I mention that I love cake? ヽ(。ゝω・。)ノ☆
♡Disney Princess in Training♡


Skills
Customer services
Editing
Sales and marketing