The celebrations to mark 10 years of the ScreenSkills' High-end TV Skills Fund continue with a focus on production and Fund support in Scotland at a special anniversary event for industry in Glasgow.
In the last three years alone, the high-end TV (HETV) Fund has supported 40 productions in Scotland including Outlander, Vigil, The Rig, Screw, Shetland and Succession. Drawing on their time working on some of these productions, industry members came together to discuss the success and impact of the Fund's work in Scotland over the past decade.
The conversation was led by Shetland producer, Louise Say, joined by Sarah Brown, the creative director of drama at STV Studios, Clare Kerr, who produced Karen Pirie and Marcus Wilson, the producer on Vigil 2.
Louise, who previously took part in the Fund's programme for co-producers and is on the Scotland Working Group, believes that many lives, including her own have been transformed. "With the help of the Fund, doors are opened for school leavers, graduates, mid or late career professionals and people in the business wanting to step up," says Louise. "It increases the talent pool in Scotland and makes career dreams come true. Now that's something we should all be proud of."
As the creative director of drama at STV Studios, Sarah Brown speaks of the talent that the industry is able to support and the benefits that returns. "From graphics trainees to HOD's, shadow directors to script supervisors, we're proud to have helped dozens of people launch or develop their TV careers across two series of our Channel 4 prison drama Screw," says Sarah. "ScreenSkills' HETV Skills Fund support was pivotal in helping us increase the number of trainees and grow the ambition of our training scheme to plug skills gaps in our industry in Scotland."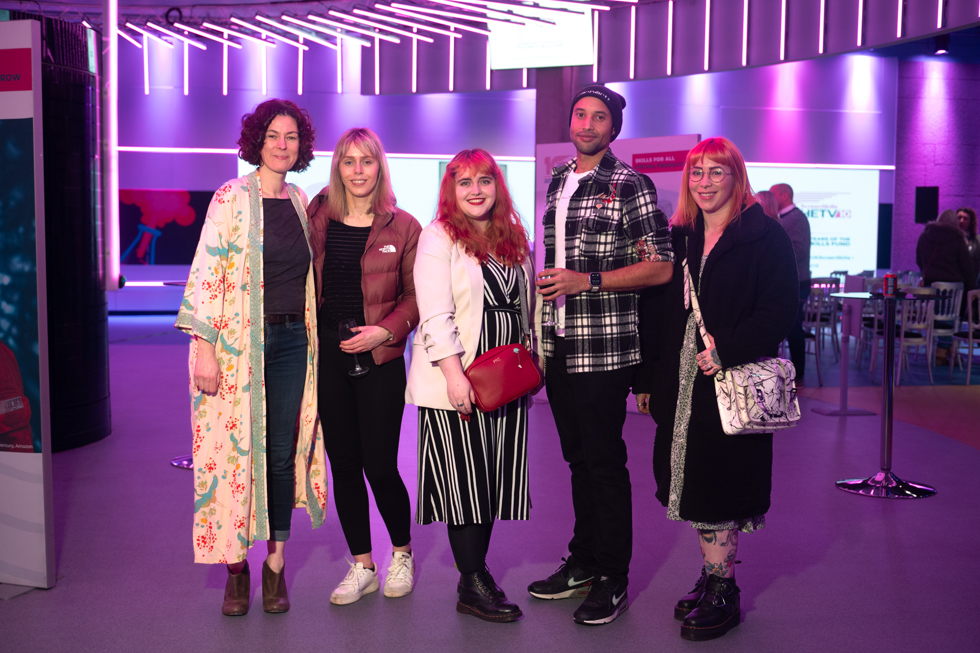 Clare Kerr adds how investing in skills promotes retention in the industry to ensure the talent pool needed to produce quality television. "The HETV investment in Skills in Scotland gives us the funding and strategy to support new entrants as well as existing crew who are ready to move up to the next level," says Clare. "Career development is so important to ensure we retain talented people that are living and working in Scotland, with the skills to continue to deliver the sort of high-end, high impact dramas like Karen Pirie and Six Four that audiences love to watch worldwide."
Speaking of his time and experience working on many different productions and different crews over the years, the Chair of the High-end TV Skills Council, Barry Ryan, concluded the evening. "Often, the one thing binding us all together is the training that HETV has funded," said Barry. "And the essential thing the industry is reliant on, that makes people want to come to film here, is the people and their fantastic creativity and skills."
In Scotland, 7,966 people have benefited from opportunities offered by the Fund, including, Rachel Erskine, who graduates from the Leaders of Tomorrow programme next year. "Leaders of Tomorrow has been fantastic. I started the programme as an experienced assistant editor/assembly editor and am delighted to be leaving it as a fully-fledged Editor," says Rachel "I have been consistently editing for over two years now and gained credits on feature films, dramas and comedy, all whilst staying in Glasgow. My confidence is growing job by job and I feel ready to take on any future challenges."
Trainings specifically commissioned by the Working Group in Scotland include a new course on working with textured hair types and make-up for medium to deep skin tones, as well as new trainings for travel and accommodation coordinators and clearances coordinators.
Watch the video to find out how the High-end TV Skills Fund has invested in the workforce in Scotland.