End Of year report from the Chair of the Animation Skills Council
15 Jun 2021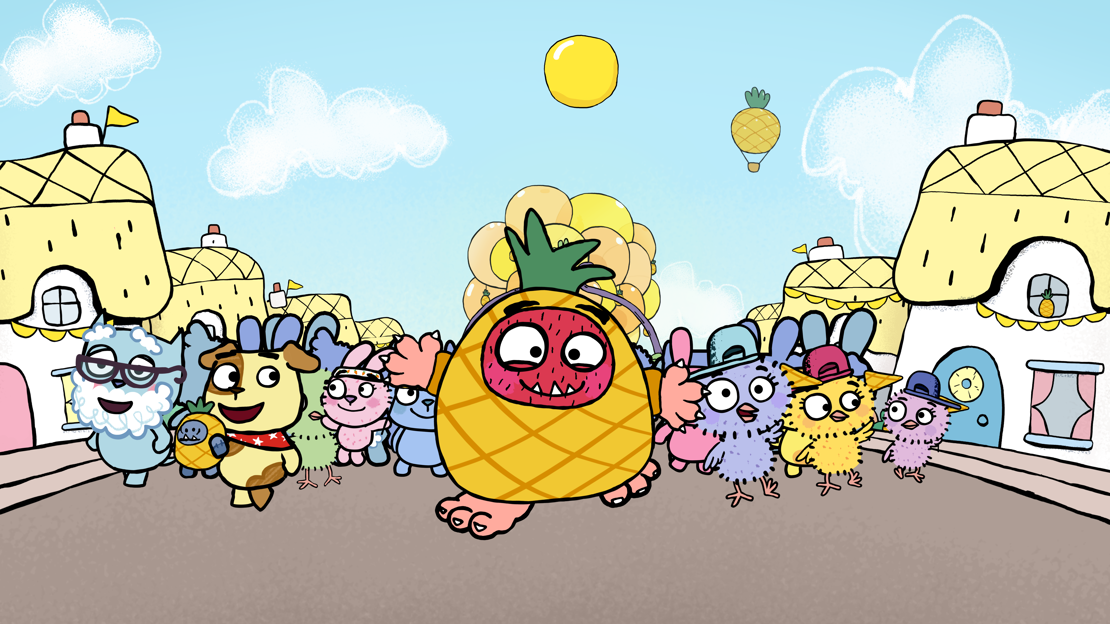 Love Monster © BBC Children's Productions/Boat Rocker Studios/ UYoung
When the ScreenSkills Animation Skills Fund re-booted two years ago it was an uphill struggle getting studios to contribute into a fund which was not spending money. Why pay precious pounds from a budget into a fund that has no visible impact? Not an easy sell.
The council put on a host of initiatives in the first year to get the ball rolling, but then we were all blindsided by Covid, causing an unrelenting stream of ups and downs, which has affected the UK animation industry in many different ways. Nonetheless, it's been amazing to witness the resilience of our industry, seeing such a huge amount of work booming across so many studios. But with big workloads comes big demands, putting even more pressure on the talent pipeline.
Like all parts of life, it forced all the physical events and initiatives planned to be suspended, and forced everything online, but rather than being a detriment, this has enabled a more inclusive reach across the UK, helping many artists at all career levels upskill, regardless of their location.
That has meant over 5,000 people from all across the UK have been helped over the last 12 months, of which 355 undertook training, 1,870 attended online events and 2,820 watched recorded training sessions. These were spread out across all career stages, from grassroots school-age initiatives to helping experienced artists step-up to become a director.
The fund helped teenagers dip their toe into animation waters for the first time in the Summer of Animation competition and YouTube masterclasses, in collaboration with ACCESS:VFX, of which the fund paid for 3Dami to run their summer camp, enabling multiple teams of teenagers collaborate in a virtual animation studio.
New talent was helped through many online masterclasses and panel discussions, where industry professionals gave tips and advice on how to forge a successful career, covering animation direction, rigging, production management and writing, with a special focus on "see-it, be-it" gender balance.
Activities were put together in a bespoke fashion to cater for new working habits, including Understanding remote feedback in animation/VFX for new entrants training, which was invaluable for helping artists land on their feet in tricky remote-working environments.
The Animation Skills Council hosted a roundtable discussion with studios across the whole of the UK, to understand the immediate talent shortages, it was clear that the higher seniority levels were in shortest in supply. So the fund continued its support of Animated Women UK's Helen North Achieve Programme to continue, helping women working in animation and VFX step up their careers. It also funded career building sessions at The Children's Media Conference and Manchester Animation Festival, ensuring the talks corresponded with studios' needs. One common request from studios was more technical talent, so the fund ran free ToonBoom Harmony rigging training, with great results.
While diversity of participants is a key requirement of all funded initiatives, the fund has gone further by helping to make sure on-screen diversity is being addressed, this has been through running a writing workshop where at least 40% of the participants are from underrepresented backgrounds, so the fund is helping build a more diverse talent pool of writers so their stories and lived experiences can reach the screen. The fund also supported the stepping up of an animation director from an underrepresented group to learn to be a series director on BBC Children's production JoJo & Gran Gran.
One substantial way the fund has helped develop existing careers is through bursaries. The fund has given out £15k to individuals working across stop-motion, 2D and 3D animation, all fairly distributed across gender, ethnicities, disabilities and geographies. The money has been allocated to help people purchase equipment, software and courses.
Overall, the fund has grown significantly over the last year, into a sustainable industry-wide initiative where all studios can work together, to chip-away at the skills shortages. There are now 18 studios who have signed the pledge to pay into the fund, demonstrating their support and understanding of how important it is.
But none of this could have happened without the kind contributions from the studios that paid into the fund over the last 12 months, so massive thanks to BBC Children's, Blue Zoo Productions, Calon, Eagle Eye Drama, Fourth Wall Animation, Lupus Films, Magic Light Pictures, Mother's Best Child, Novel Entertainment, Obki Productions, Paper Owl Films, Parcel of Rogues, Tiger Aspect Productions, Timeless Films, Wild Child Animation, Wildseed Studios and Wyndley Animation.
Our Deputy Chair, Greg Boardman, had this to add: "During a difficult year the animation industry has not only demonstrated huge resilience and adaptability, it has also demonstrated a significant growth in commitment towards training and nurturing new talent.  It is fantastic to see companies acting to ensure the whole sector can continue to expand."
There are so many exciting initiatives planned for the year ahead, but for these to continue, the fund needs support from the studios, so I really hope all the above has helped demonstrate what can be achieved when we all push forward together.
Tom Box, Chair, Animation Skills Council, June 2021
---
Back to news