Broadcaster and ScreenSkills ambassador Mim Shaikh
4 Nov 2020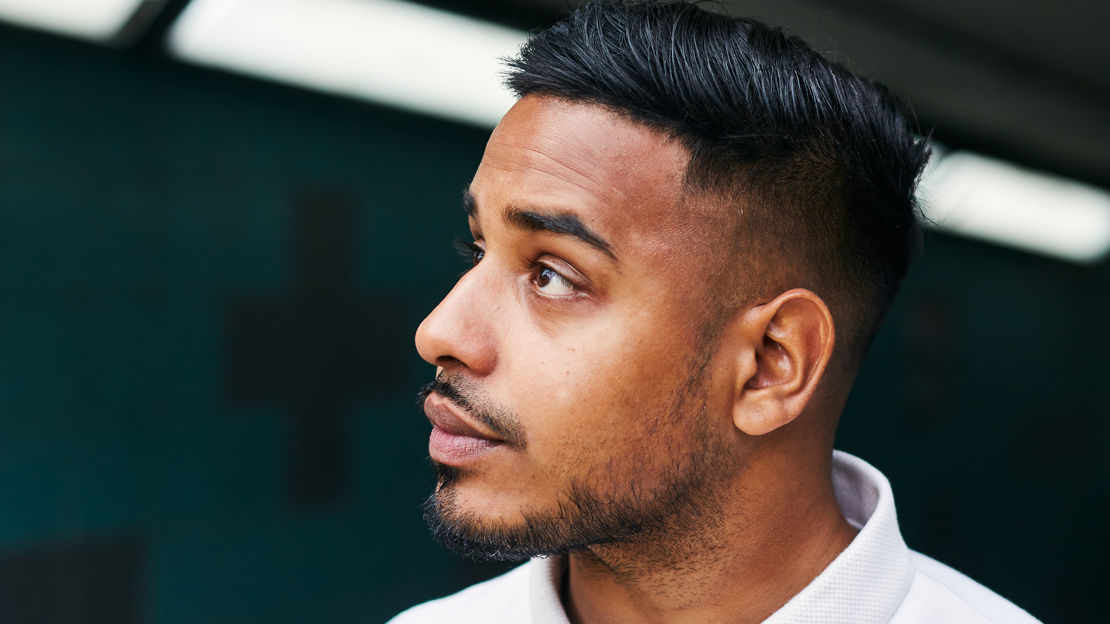 © Jake Buckley
Mim Shaikh is a broadcaster, actor, poet and writer and an ambassador for ScreenSkills. "I'm still learning and still have so many things to achieve and do. But if on the journey you can stop off and share what you have learned and experienced, that's good," he said. "You hope that in speaking about what you've done, it can spark something in someone else."
Born in Dudley in the West Midlands, Mim grew up mostly in south London and after an A and two Bs at A-level, studied broadcast journalism at Leeds University.  "My course was very news heavy and about how to present stories.  I fell in love with radio and spent a lot of time at Leeds building up my own radio shows. I realised this was the trajectory - I wanted to be on Radio 1 as a presenter."
After securing a 2:1 in his degree, he "bombarded" radio production companies with requests to do internships and secured a place on the Hackney Academy, a BBC radio initiative that offered a week's work experience working with Radio 1 DJs and presenters.  From there, one of the academy team flagged the BBC was looking for an assistant producer on the Asian Network helping presenters on their shows and he got the job. However, he was also building his own profile making YouTube videos until he secured his own Asian Network talk show. From that, he was offered the weekend show on 1Xtra and has also worked on Radio 1.
"That's how presenting came together. Then I kept thinking, how am I going to do this for a long time? The acting happened because I was doing the YouTube videos and I bombarded agencies -  'I want to be a professional actor, I know I'm good.'"  An agency signed him and has appeared in Casualty and Doctors – shows that are a rite of passage for actors – as well as the drama Informer and comedy King Gary. In 2014, he had appeared in Riz Ahmed's short film, Daytimer. "You get a lot of rejection [as an actor] but I've got some very good gigs." Another short film he appeared in, Sunni/Shia, exploring the difference between Sunni and Shia Muslims, was seen in classrooms across the UK.
In 2016, after taking the lead role in the dark comedy feature film Freehold, which was shortlisted at the SXSW Film Festival, another opportunity arose. The non-fiction production company Lightbox approached him about making documentaries. He already had an idea about going to Pakistan to find his biological father whom he had never met and was, separately, in talks with BBC Three. So he made his first documentary, Mim Shaikh: Finding Dad which  aired on both BBC Three and BBC One. He has since appeared in the BBC Two documentary series Pilgrimage: Road to Istanbul, where he went on a spiritual trek in Turkey and discussed the importance of religion, as well as taking part in Celebrity Masterchef.
He is currently writing a TV series and developing a film script for his own feature film.
"In a nutshell, everything came together in the last seven to eight years. My dreams and aspirations were to present on radio, to act in projects and to make documentaries," he said.  An only child with a disabled mother, it was his grandmother who encouraged him to be an independent thinker.  "Nobody in my family had done anything like this before. Everybody in our family had done the same thing - to go and work as an accountant, lawyer, in finance or medicine. Nobody did anything out of the norm. I'm so glad I did. My younger cousins have been able to see what my life is like, work-wise. They never knew something like that was possible before. I'm a living example that you can build your own network. It can be easier if you can come from a middle-class family who can help you. But it can be done, even from humble beginnings and if your family are working-class."
Mim has a strong sense of purpose. "I feel I've got something that I'm good at really good at which is telling stories and being part of stories - that's the number one feature across all the disciplines I work in. I've always wanted to be of service and help other people find whatever they feel they're good at."