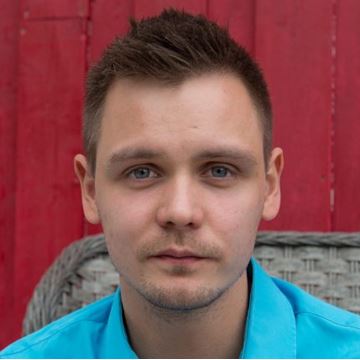 Kim-Runar Klodiussen
Actor & Theatre Practiotioner
Location:

Worldwide (Currently Norway, but have no problem in travelling)

Career stage:

Early

Freelancer:

Available
Kim is a professionally trained theatre practitioner and actor from Senja.
In 2016 he graduated from The University of Roehampton in London, where he got his first bachelor degree in Drama, Theatre & Performance Studies. After graduating he moved back to Norway and worked as a theatre teacher at Kulturskolen in Tromsø, where he had his office and held classes at Rådstua Theatre House. The following year he got accepted into Nord University (a drama school, formerly known as HiNT) and is a "professionally trained actor" in June 2020.
When he was young, Kim got diagnosed with Tourettes Syndrome, something which have never stopped him in pursuing his dreams and ambitions. As as actor, Kim can control his tics while being "in character" and he firmly believes that Tourettes will be his biggest strength. "To fully master yourself, you must turn your biggest weakness into your greatest strength".
He is also interested in magic, movie making and martial arts. Kim is currently a 2nd Degree Black Belt in ITF Taekwon-Do and hold various belts in different martial arts.
Kim-Runar Klodiussen is a member of the Norwegian Actors' Equity Association
Work History
Magician - Freelance (Festivals)
Actor (Chebutykin/The Doctor) - Three Sisters (Student Theatre Play, London)
Other smaller acting jobs - Freelancer
Actor/Director/Playwright - Lunar Wolf Production Studios
Store Assistant/Substitute (Summer) - Joker Stonglandseidet (Norway)
Theatre Teacher - Kulturskolen in Tromsø, Norway
Kindergarden Substitute (Using drama techniques with children) - Harstad, Norway (City)
Host - Markomeannu (Festival, Norway)
Model & Singer - Sami Cultural Festival (Russia)
Male lead - Peer! (Theatre Play, Norway)
Actor (Smikk/Major Character) - Det Store Julespliiet (Theatre Play, Norway)
Host - Multicultura (Festival, Harstad/Norway)
Male lead (actor) - Kors på Halsen (Theatre Play, Norway)
Main suporting actor (The Pilot) - The Good Woman from Sezuan (Theatre Play, Norway)
Actor (several minor characters) - Det Store Julesplillet (Theatre Play, Norway)
Education
Acting & Theatrical Production (Actor's Traning) - BA - Nord University (formerly HiNT)
Drama, Theatre & Peformance Studies - BA Honours - The University of Roehampton (London)
Drama/Acting - Diploma - TITAN Teaterakademi (The International Theatre Academy Norway)
Music, Dance & Drama (Drama) - A-Levels (Norwegian standard) - Heggen Viredegående Skole
Primary School - Primary School - Stonglandet Skole
Skills
Acting
Magician
Martial Art
Writing
Acting
Administration
Creating
Directing
Entrepreneurial skills
Musical Theatre
Physical Theatre
Pitching/presenting and proposal writing
Product management
Project management
Singing
Theatre