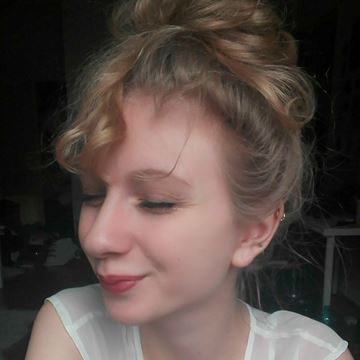 Alexandra Ciufudean
Rainbotron Operator at Werework Digital
Location:

London

Career stage:

Entry
Hi!
I'm a London-based art & language nerd.
My passions are visual and contemporary art, photography, and telling stories through writing and images.
My background is in languages and literature, along with theatre and art history.
I've just finished an MA in Comparative Literature from UCL, and before that I pursued a BA in English and Portuguese linguistics and literature, and a BA in acting, simultaneously.
My MA research dissertation focused on mid-20th century American text and image, particularly the work of photographer Robert Frank.
I've been photographing analog and digital for over 7 years, and recently started working on art installations (like the Rainbotron). I'm also skilled in manual film developing and processing, as well as Photoshop and Lightroom.
In the past, I've co-founded one theatre festival for teenagers in Romania and worked with several others as an editor, promoter, participant liaison, and actor.
My most recent collaboration, the Rainbotron, is an improvised photo studio I assembled from an antique wardrobe and an app for creating studio lighting. It debuted at the Werework Digital tech speakeasy launch, where we had an impromptu photo session with our guests. You can check it out here:
https://photos.google.com/share/AF1QipOVzChkhPjXM1xUzeSzNHO2g_ARZF_lJihUUuCt26PscBQqttVtUu2VkyeLtDsL6A?key=RVhzV0RQZUI0LXp2aHJFMDlqRkRlQldlaGRmOFZB
I learned English around the same time I started speaking Romanian, so I consider myself bilingual. I'm also well on my way to fluency in Portuguese, French and Spanish. I want to (hopefully) add Greek and Russian to that list one day.
I'm currently looking to put my passions and experience to good use in publishing or the visual arts world, with an internship or entry-level position.
If you think I might be the right fit for a role, want to collaborate, or have any further questions/curiosity, please don't hesitate to contact me.
Work History
Rainbotron Operator/Art Collaborator - Werework Digital
Copywriting Intern - Saatchi&Saatchi
Newsletter Editor/Liaison/Actor - AT4T Association
Newsletter Editor/Marketing/Liaison/Actor - Ingenious Drama Association
Co-founder/Newsletter Editor/Marketing/Liaison - MagicFest National Theatre Festival
Education
Comparative Literature - MA - UCL
English and Portuguese Language and Literature - BA - University of Bucharest, Faculty of Foreign Languages
Portuguese Language Intensive Course - Language Certificate - Universidade de Lisboa
Theatre and Performing Arts - Acting for Stage and Film - BA - Caragiale Academy of Theatrical Arts and Cinematography
Skills
Adobe Photoshop
Digital Photography
Event Management
Languages
Adobe Lightroom
Analogue Photography
Art History
Arts and Events Management
Communication
Copy-editing
Copywriting
Creative writing
Editorial
Festival Organizing
Film
Liaison
Linguistics
Literature
Manual Film Processing
Microsoft Office
Music Theory
Piano
Proofreading
Theatre
Visual Arts