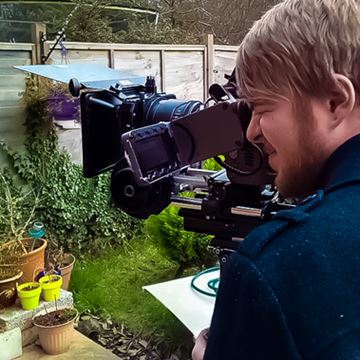 Sam Martin
Freelance And Second Year Degree Student
Location:

Somerset

Career stage:

Expert

Freelancer:

Available
- I am a confident, enthusiastic and hard working student looking for any opportunity that will get me into the film industry.
- My dream and goal is to become a professionally trained camera operator working on feature/short films or natural and environmental documentries.
- I am willing to work in any job role, be that runner, catering, acting in order to gain the experience, contacts and knowledge i need to get into the film industry wether unpaid or minimal pay.
- I am currently studying an FDA in film and media production at Weston College . I have previously studied photography and film, along with music technology at A Level and BTEC grade.
Work History
Co-Director/Director Of Photography - Hitchhiker Short Film
Second Camera Operator/Grip - White Wave Motion Pictures
Lead Camera Operator - Emily Eades Short Film Director
Production Assitant/Event Night Assitant Director - Dirigo International Film Festival
Director - Sam Martin Productions (Behind Health Care)
1st Camera Operator - Sam Martin Productions (Behind Health Care)
1st Camera Operator - Tour Life
Sound Recordist - White Wave Productions
1st Camera Operator - North Somerset Council
2nd Camera Operator - Sam Martin Productions (Euphoria)
Director - Sam Martin Productions (Euphoria)
2nd Camera Operator - Below The Neck
Clapper And Logger - Under The Bridge
1st Camera Operator - Through The Smoke
1st Camera Operator - Kantor
Education
Film And Media Studies - Foundation Degree - Weston College University Campus
Video Marketing - Apprenticeship - Bitpod
Film And Video - A Level - Exeter College
Photography - A Level - Exeter College
Music Technology - BTEC Subsidary Extended Diploma - Exeter College
Skills
Training
Camera
Camera Assisting
Camera Operating
Camera Operation
Camera Operator
Cinematographer
Clapper Loading
Live Sound
Music Technology
Musician
Runner
Sound and Video