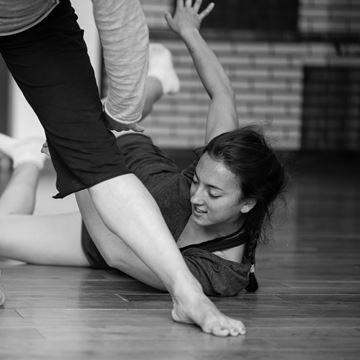 Linzy Na Nakorn
Dancer / Performer / Choreographer / Producer - Freelance
Location:

London / Bristol

Freelancer:

Available
Hello!
I am a freelance contemporary performer, producer and choreographer based between London and the south-west interested in collaborative performance, mixed-media artforms, interactive performance and movement research.
P E R F O R M A N C E
I have been greatful to work with various choreographers in the past few years and have gained experience working under the direction of Luca Silvestrini, Zoi Dimitriou, Masako Matsushita, Matthias Sperling and Mata Sakka for Sasha Waltz. I am currently touring with immersive performance company BitterSuite as well as delivering and facilitating the movement direction for Femi Oyewole's Paint Party.
M Y W O R K
Concerned with what makes us human, I look to explore within my own work the subtleties of human nature from the physical to the philosophical. I am currently continuing my research into communicative structures, authentic movement practice and the influence of sound and the voice upon the body. I always seek to work cross collaboratively with many different disciplines celebrating the variety that lies within expressive art forms and have recently shown work in Italy and London in collaboration with sound artists, poets and film makers. I was recently a shortlisted choreographer for The Od Vic' 12 program, I am a current member of INTERVAL Collective and an invited artist of the Barcelona International Dance Exchange happening in April 2016.
I am currently working on a new production for 2016 in collaboration with ecologists and marine bioligists in a responsive work to the 2015 climate summit.
Work History
Movement Director - The Ongoing Project
Performer / Creative assistant - Simon Panrucker's Keep Fit Fandango
Assistant to the director - BitterSuite
Education
Contemporary Dance - BA Hons 1st Class - Trinity Laban Conservatoire of Music and Dance
Dance Theatre Performance - Fda Dance Theatre - Distinction - Plymouth University
Dance Theatre - Diploma in Dance Studies - Middlesex University
Skills
Marketing
Choreography
Contact Improvisation
Contemporary Dance
Creative writing
Extra work
Journalism
Physical Theatre
PR
Production
Programming
Teaching
Walk-about Theatre
Workshop facilitation