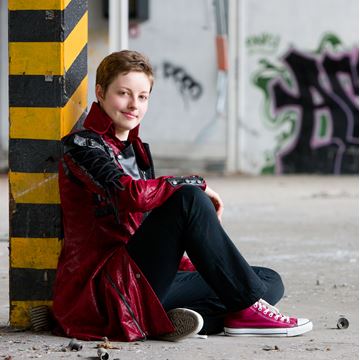 Maureen Six
Post Grad Filmmaking student
Location:

Glasgow

Career stage:

Entry

Freelancer:

Available
Hi there! My name is Maureen, 23, and I'm currently following a Msc Filmmaking course at Glasgow University. This course is a great opportuity for me to apply and learn a wide set of technical skills essentially related to the production of small budget project.
Outside the academic structure, I am also a keen cosplayer and thus, a self taught costume and prop maker, recreating screen accurate costumes and accessories for my small budget cosplays. Eager to learn about costumes and props making at another level I seek opportunities to work with professionals.
I am extremely motivated and will put my energy and creativity at the service of every task that I would be assigned to in order to get the job done quickly and thoroughtly, and learn valuable new skills.
Work History
Runner - Apocalypse Pictures Ltd.
2nd Camera Unit - Africa In Motion Film Festival, University of Glasgow
Team Member: customer service, sales, projectionist trainee - CGR Cinemas
Education
Msc Filmmaking and Media Arts - Msc degree - University of Glasgow, UK
Cinematographic studies - Bachelor of Arts - Université Lille3 Charles de Gaulle, Lille, France
2nd year Drama course - Diploma - Conservatoire de Lille, Lille, France
Drama Practice and Theory, Cinematographic studies - Baccalauréat - Lycée A. Chatelet, St Pol sur Ternoise, France
Skills
Acting
Adobe PremierePro
Camera
Communication
cosplay
Costume
Costuming
Good Listener
Google Drive
Improvisation
Life Drawing and Painting
Practical Sewing Skills
prop making (beginner)
Repair
Runner
Running
Set Dressing
Social Media
Followers