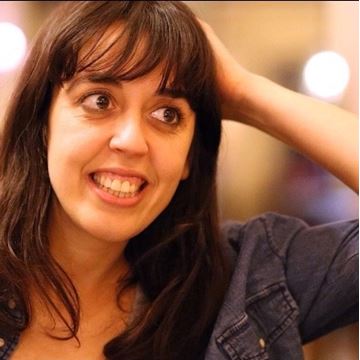 Clàudia Cedó
Psychologist, stage director and playwright
Career stage:

Experienced
She holds a degree in Psychology from the Universitat Autònoma de Barcelona in 2005, is a graduate in Dramatic Art and trained in theatre of the oppressed. She worked as a psychologist at prison centres for three years and in 2006 created Escenaris Especials, a project that does theatre with people at risk of social exclusion. She teaches the course Theatre as a Tool for Inclusion at the COPC, at the UAB, at the CaixaForum and at the Confederación Autismo España. She co-organises the Theatre and Psychology Sessions in Girona.
As an actress, she has participated in shows such as Nada nuevo que contar, Pervertimiento and Tänzerin hinter Stacheldraht at the Dokumentartheater in Berlin – winner at the F.I.T. in Minsk and at the Festival de Monaco. As dramaturg and director she has worked on shows such as Vida a Mida and Júlia? (winners of the C. Manlleu Prize), De petits tots matàvem formigues (winner of the Buero Theatre Prize), El Pou (starring one hundred actors at risk of social exclusion and winner of the Compromís Girona Prize) and Et Planto.
In 2015 she premiered Tortugues: La desacceleració de les partícules at the Sala FlyHard, with which she won the Butaca Prize for Best Text and was nominated for the Butaca Prize for the Best Small-Format Show and for the Playwriting and Revelation section of the La Crítica Prizes 2015. That same year, Clàudia Cedó won the 5th Catalan Playwriting Tournament at the Temporada Alta Festival. In 2016, she premiered L'home sense veu at the Sala FlyHard.
Clàudia Cedó is resident author at the Sala Beckett for the 2017-2018 season.