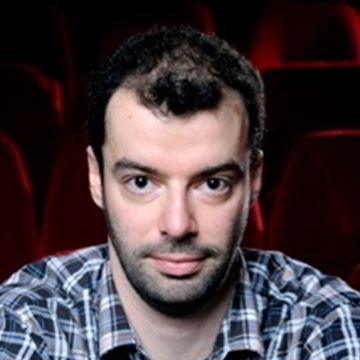 Gregory Emfietzis
Composer / Sound Designer
Location:

Teddington, London

Career stage:

Early

Freelancer:

Available
Gregory Emfietzis is a London-based freelance composer, sound designer and performer. Born in Thessaloniki (Greece), he played the violin and sang, performing in many international festivals, concerts and operas, before and while taking a degree in Music Science and Art at the University of Macedonia. He moved to the UK in 2004, to study composition with Christopher Fox at Huddersfield University and with Fox, Richard Barrett and Jennifer Walshe at Brunel University.
His music explores the drama, psychology and ritualism of public performance. In addition to a number of semi or fully staged concert works, Gregory has been engaged with a number of his own and other artists' multidisciplinary collaborative projects, primarily dealing with theatre, dance and design.
Performances of his works have taken place across Europe and America, and have been featured by some of the world's most illustrious ensembles and festivals. As well as a composer, Emfietzis is Composer in Residence at the Youth Music Centre (London), and Artistic Director of the Metapraxis Ensemble.
Work History
Violin Teacher - Saint Gabriel's College, UK
Musicianship Teacher / Orchestra Conductor - Youth Music Centre (Barnet / Hampstead)
Composer - London Symphony Orchestra
Composer - London Sinfonietta
Composer - Greek National Opera
Composer - Wiener Konzerthaus - Berlin Philharmonic
Music Lecturer - Roehampton University, UK
Community Music Administrator - Roehampton University, UK
Education
Composition - PhD - Brunel University, UK
Composition & Contemporary Music - MA - University of Huddersfield, UK
Music Science & Art - BA - University of Macedonia, Greece
Skills
Composition
Conducting
Contemporary
Contemporary Dance
Cubase
Dance
Electronic Music
film music
Finale
Logic Pro
Max/MSP
Music
Music Composition
Music Editing
Music Performance
Music Production
Music Recording
Music Recording and Production
Music Scoring
Music Teaching
Music Technology
music theory
Music Writing
Musical
Musical Performer
Musical Theatre
Musician
Sibelius
Sound and Video
Theatre
Violin
Portfolio
Delete item. Are you sure?
Yes
/
No
{{item.MemberAudioTitle}}