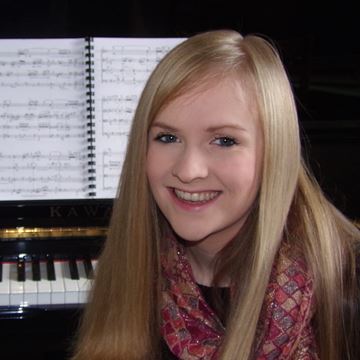 Angela Slater
PhD Composer
Location:

Nottinghamshire

Career stage:

Early

Freelancer:

Available
Angela Elizabeth Slater is a UK-based composer in the final stages of a PhD in composition at the University of Nottingham, generously funded by the AHRC and supervised by Dr. Nicholas Sackman and Prof. Mervyn Cooke. Angela has developed a particular interest in incorporating different aspects of the natural world into her compositions, and has been working on a series of compositions that engage with the natural world in many different ways.
Through her studies and attendance at many courses, Angela has worked with many professional and amateur musicians, and enjoys working with both groups with equal passion and enthusiasm. To date she has worked with many choral and instrumental ensembles such as the Galitzin Quartet, Orlando Consort, Emulsion quartet, Ensemble 360, Kokoro, Bristol ensemble, Fournier Trio and Xenia Pestova; as well as working with new talents such as the Lux quintet, Dead Wood and Michael Sluman. Angela enjoys working with ensembles of varying abilities and backgrounds, and is keen to find ways to make contemporary music exciting and accessible for a range of players and audiences.
Angela has recently been commissioned by Xenia Pestova to write a piece for toy piano. The piece, entitled 'We're all mad here', will be premiered at the 'Spotlight on Female Composers' event in Leeds on 4th September 2015. She has also recently awarded a prestigious bursary by the Boltini Trust to participate in the Advanced Composition Course 2015 at Dartington Hall, and study with Hugh Wood and Stephen Pratt. Her choral piece Apparitions has been selected has been selected for the Choral composition workshop with Judith Weir and the BBC Singers on 1st September 2015. Angela is also currently taking part in Psappha – Composing for Clarinet scheme where she is writing a piece for the professional clarinetist Dov Goldberg.
In July 2015, Angela was also selected to attend the Composer Academy as part of the Cheltenham Festival, where she participated in sessions led by Peter Wiegold and Joe Cutler. Her piece Night Airs was selected to be workshopped by Kokoro at the Bournemouth Symphony Orchestra Composers' Day led by composer Colin Matthews. Angela has also also received advice and tuition from composers such as Oliver Searle, Rory Boyle, Gordon McPherson, Judith Weir, Erroyllen Wallen, Peter Wiegold, David Horne, and Geoff Hannan.
Portfolio
Delete item. Are you sure?
Yes
/
No
{{item.MemberAudioTitle}}