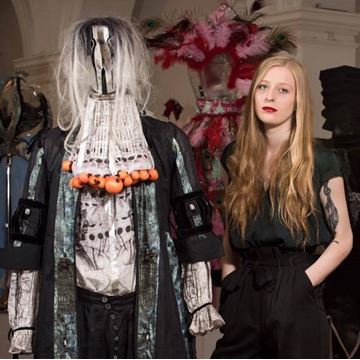 Yan Smiley
Costume Trainee
Location:

Edinburgh/Scotland General

Career stage:

Entry

Freelancer:

Available
Costume Trainee
I have recently worked as Dye and Breakdown Artist on STV's The Victim and I completed two months of full-time work on the Netlfix feature film - Outlaw King as the role of Trainee Costume Daily in addition to seamstress, fitting and dressing roles for designer fashion shoots, concert performance and theatre. I am now looking for a full costume traineeship in Film in Scotland,
I graduated from Edinburgh College of Art at The University of Edinburgh with a First Class BA (Hons) Degree in Performance Costume Design (with making) in July 2017.
I have been trained in Costume Design, Textile Artistry and Costume Making with my working experience providing training in set standby, dressing, costume maintenance, assisting in fittings, get ins/get outs, pairing, continuity, breakdown, returns etc.
In addition to the recent work stated above I was selected for the Dye and Breakdown Costume Trainee trial in August 2017 and have completed a work experience trainee placement on the Netflix series The Crown in January 2017. I have also undergone work on short Films such as 1745 by Gordon Napier as Textile Assistant in October 2016, The Northleach Horror by David Cairns as Textile Artist in January 2016 and stage productions such as BalletLORENT's Snow White as Junior Maker and Textile Artist where I worked with respected film costume designer and sourcer Libby Everall.
I am vastly passionate about inventing and sustaining the visual aspects of costume, with keen interest in design, fittings, set standby, textile design, finish and making. I am eager to learn fully the intricacies and skills involved in these roles through a traineeship in the costume department, and to develop my abilities to advance my role from determined learner to professional practitioner.
I am particularly engaged in working on historical productions but simultaneously Science-Fiction, where in both I am intrigued by the logical, scientific, medical or anthropological conditioning of the narrative and costume. Creatively I am drawn to the unusual and conceptual skeleton of a story, universe and character and strive to maintain and communicate this in my general costume and design work through detailing, cut, layering, use of line and environmental relationship.
Work History
Trainee Costume Daily - 'Outlaw King' Loudoun Productions Ltd.
Education
Performance Costume - BA (Hons) Degree - Edinburgh College of Art at The University of Edinburgh
Textile Design - HND - Edinburgh College
Skills
Digital Design
Alterations
Costume Construction
Costume Design
Costuming
Digital Print
Dressing
Dye and Breakdown
Embroidery
Historical Costuming
Laser Cutting
Natural Dyeing
Print and Textile Design
Textile Art
Textile Design