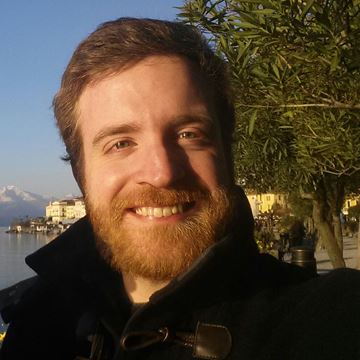 Michele Furfari
TV writer, Researcher
Location:

London

Career stage:

Experienced

Freelancer:

Available
I'm a TV writer originally from Italy, part of the Writer's Guild Italy (WGI) and the European think-thank for Virtual Reality, the VR/XR Creator's Lab (Bayerisches Filmzentrum / Creative Europe).
I've worked for both networks (Mediaset/ RTI) and production companies (Toro Media, Zero Stories and Lux Vide, among the others). In early 2018 I was awarded a full scholarship for an MBA in Creative Producing from the 24 Ore Business School (Rome) and in 2019 I was selected for RAI Fiction talent scheme for screenwriters and creative producers.
I'm partner of Kyklos Entertainment, a company based in Rome founded by Luigi Forlai (previously creative producer on the Endemol Italy series "Tuscan Passion) that develops scripted and non-scripted formats for the international market.
I'm also a founder of the writing collective "Three-O", a trio consisting of Cecilia Marotta (contributor for Vogue Italy, Vice and The Huffington Post) and Simone Salvi (VFX Artist and game designer).
I've published a book of visual poetry ("Concrete Lake", Lago 2019) and taught a course on the adaptation of IPs on the Italian TV market at 24 Ore Business School.
Work History
Researcher and Script Editor - Mediaset R.T.I./ International Coproductions Department
Acritical (Drama, with Marco Riggio) - Spec
TV Writer / Paws for Love! (Dating, with Luigi Forlai) - Spec
TV Writer / Kinky Chef (Dating, with Luigi Forlai) - Kyklos Entertainment
TV Writer / The Hunt (Game show, with Luigi Forlai) - Kyklos Entertainment
TV Writer / Ludwig (Docu-series, with Alessandro Giordano) - Fremantle / Wavy
Screenwriter / Corvialley (Drama, with Fabio di Ranno and Valeria Giasi) - Spec
Story editor / At the Aga Khan's Court (Docu-series, by Lisa Camillo) - Balentes Film
TV Writer / Hype! (Docu-series, with A. Giordano) - Spec
TV Writer / Don't Come Knocking (Dating show, with Luigi Forlai) - Kyklos Entertainment
TV Writer / Med Adventures (Adventure show, with Luigi Forlai) - Kyklos Entertainment
Development editor / Non-scripted - Kyklos Entertainment
TV Writer / Klinz: Never trust a Bastard (Reality, with Luca Rea, Cecilia Marotta and Simone Salvi) - Spec
Screenwriter / Type-O Negative (Drama, with Gregorio Scorsetti) - Spec
Translator, Adapter / Home (Animated Series) - 3cycle
Translator, Adapter / Henry Danger (Animated Series) - 3cycle
Screenwriter / Sorry, it's over! (Drama, with Michela Straniero) - Spec
TV Writer / SuperHero Lovers (Dating show, with Cecilia Marotta and Simone Salvi) - VIMNI – Viacom International Media Networks Italia
Script editor / Rules of Destiny (By Luigi Forlai) - Kyklos Entertainment
Screenwriter / The Extraordinary adventures of Jules Verne - Lux Vide/ Rai Fiction
Script editor / Nuraghes s'Arena (by Mauro Aragoni) - VIMNI – Viacom International Media Networks Italia
Script editor / Mussafirina - Toro Media (Sony Pictures TV)
Script editor / I Baritono (by Claudio Gregori) - Toro Media (Sony Pictures TV)
Screenwriter / Camera Cafè Season 5 - Zero Stories/ Rai Fiction
Ass. Camera Operator (RED Epic) - Scrix Srl, Via Bergonzoli 2 20127, Milano
Data Manager (Alexa XT) - Movie Magic International Via Bramante 29 20154, Milano
Data Manager (Blackmagic Cinema Camera) - Black Mamba, Via Francesco Melzi d'Eril, 40 20154 Milano
Film-maker - Università degli Studi di Milano Via Festa del Perdono 7, 20122 Milano
Camera Operator (AG-HPX370) - 3zero2, Via Ingegnoli, 32, Cologno Monzese MI
Film-maker - ADV 2.0 Communication Tartu Mnt 10-2 1045 Tallin
VTR Technician - Movie Magic International Srl Via Bramante 29 20154, Milano
VTR Technician - Filmgood, Via Conca del Naviglio, 18 20123, Milano
Film-maker - Provincia di Gorizia – Assessorato alle politiche Giovanili (Youth and Education department of the Province of Gorizia) Via Diaz, 5 34170 Gorizia, ITALY
Film-maker - Just One Piece Srl Viale Vittorio Veneto, 6 20124 Milano, Italy
Film-maker - La Fabbrica – Etichetta Indipendente Via Arno, 4 40139 Bologna, Italy
Director - The Opinions Post, Kubova 535/2 186 00 Praha – Praha 8 Czech Republic
Film-maker - MuKoncept Krymská 29 10100 Praha 10, Czech Republic
Video Reporter - MITO Settembre Musica, Via Dogana 2 20123 Milano, Italy
Editor - McDIVA Produzioni Video e Multimedia Via Cadamosto 8, 20124 Milano, Italy
Film-maker - Punk Film, s.r.o. V Jircharich 8 110 00 Praha 1, Czech Republic
Education
Screenwriting for Television - Master's Degree in Screenwriting for Television - Admitted after a national selection - Rai Fiction /School of Journalism and Broadcasting (SGRT)
Creative Producing / Media Management - Master's Degree in Film and Audiovisual Management - Merit based scholarship - 24 Ore Business School, Rome
Director's Series - Short Course - National Film and TV School, Beaconsfield, UK
Developing and Pitching Drama - Short Course - National Film and TV School, Beaconsfield, UK
Studio portrait and Studio lighting certificate - Higher-level technical education and training - CFP Bauer Via Soderini 24, 20124, Milano, ITALY
Film and Performing Arts - Bachelor's Degree in disciplines of Art, Music and performing arts - Università degli Studi di Udine, Via delle Scienze 206, 33100 Udine, Italy
16mm Film Production Certificate (Excellent) - University extra-curricular classes - New York University – Tisch School of the Arts 721 Broadway New York, NY, 10003
Producing for Film - Scuola di Alta Formazione (Higher-level technical education and training) - Scuola Civica di Cinema, Televisione e Nuovi Media, Via P. Colletta, 51 20137 Milano, ITALY
Scuola Media Superiore (Secondary Education) - Maturità Classica (90/100) - Liceo Classico Statale "G. Parini" Via Goito 4, 20121 Milano Italia
Student Exchange Program - Certificate of accomplishment - Rampart High school 8250 Lexington Drive, Colorado Springs, CO United States of America
Skills
Drama
Research and Development
Research Skills
Screenwriting
Script and Story Development
TV Production