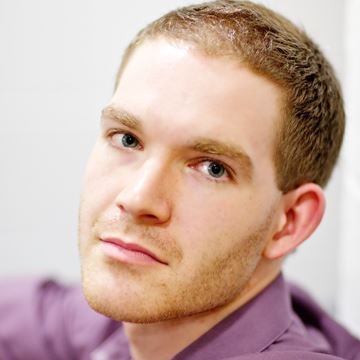 Jez Pike
Theatre Director
Location:

London

Career stage:

Early

Freelancer:

Available
Profile: I am a freelance Director currently based in London and a graduate of the MFA Directing course at Birkbeck College. I work all over the UK with a particular interest in regional theatre. In recent years i've developed an exciting and ongoing relationship with Theatre by the Lake in Cumbria.
Interests: My directing interests aren't easily pigeon-holed; if it's good script/idea and I feel some kind of connection with it then I'm interested irrespective of form or genre it takes or what era it's from. My personal principle is to try and make the next project as different as possible from the one before. I've found I direct best when working just outside my comfort zone and when the project involves me acquiring new knowledge and skills or trying a new approach.
If I had to restrict myself to one 'type' of play I probably say texts that are elusive, slightly poetic, challenging and not easily knowable - the kind of play that when you're working on it you always sure it's better than you and that you can never quite own it. Consequently my all time favourite playwrights are Beckett, Pinter and Robert Holman and the play I've directed that I feel the greatest affection for is Knives in Hens by David Harrower.
Approach to directing: I believe the director should meet the demmands of the text not the other way round, and consequently I try to adapt my style to what I perceive are the particular challenges of that text and to how I think the cast can be best helped. This has led me to work physically, with improvisation and round the table using hard-core actioning.
Whatever the process however my rehearsal rooms tend to be places where there is a rigorous attention to detail, a strong emphasis on fully understanding and embodying the 'world of the play' and a committment to trying everything at least once. My main aim is to support actors. I ask a lot and push them hard but try to always tailor my approach to the individual needs, personality and process of that actor.
I also believe that rehearsal rooms should always be positive environments in which laughter is never far away. In this way, to paraphrase a hero and huge influence of mine, Anne Bogart, a space is created in which it is 'safe to be dangerous'.
Outside of the rehearsal rooms creative collaboration with a designer and a technical team is at the heart of my process, and I aim to create productions that surprise, provoke and stimulate the senses as well as the mind. I've become particularly fascinated with sound design in recent years and my process often begins by thinking about the sound and/or music of the world of the play.
Current obsessions: Live music and choral singing within theatre, sound design, verbatim/documentary theatre, inter-disciplinary collaborations, feminist perspectives in theatre today, working with writers and the role of director as dramaturg.
Ambitions: To always continue to learn and face new challenges and not to ever become a director that directs in one way and creates work in which their personality and tastes overpower all else. To run a company. To run a regional producing theatre and to fight for the voice of regional theatre to be heard. To help train and develop actors and directors. To explore the connection between theatre and community and to make work that has a defined relationship between people and place.
Current and future projects:
Macbeth: Just about to begin a research and development period for a collaborative investigation of Macbeth with actor and theatre-maker Charlotte Slater, who's trained in the Grotowskian tradition with Teatr Pieśń Kozła and Odin Teatret. We're exploring the play through the prism of Lady Macbeth and the project may well involve collaboration with live musicians and a clown. At this stage that's all I know!
New writing projects: Working with two really exciting emerging playwrights - Bram Davidowicz (Strawberry Starburst, Brockley Jack) on his new dystopian epic Rats and actor/writer Henry Devas on his debut play We're Staying Right Here (in association with Metal Rabitt Productions).
Work History
Freelance Theatre Director - Caravanserai Productions, Rogue Writers, Theatre by the Lake, Sprocket Theatre, Metal Rabbit Productions
Resident Trainee Director - Theatre by the Lake
Director in Residence - Otherplace Productions Ltd
Education
Theatre Directing - MFA (Distinction) (Recipient of the Peter Cheeseman Award for greatest development) - Birkbeck College
Drama and English - BA Hons (2:1) - University of Sussex
Skills
Facilitation
Assistant Director
Comedy
Director
Drama
Dramaturgy
Front of House Management
Oral History
Script Editing
Theatre
Tragedy
Venue Management
Workshop Leading
Portfolio
ScreenSkills is not responsible for the content of these uploaded files.