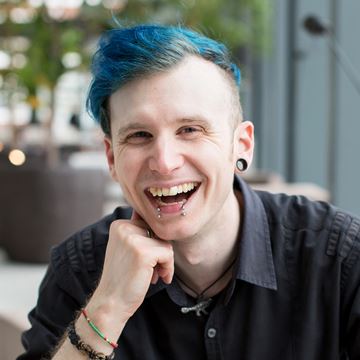 Jay Sillence
Artistic Director
Location:

Yorkshire

Career stage:

Expert

Freelancer:

Available
Jay has been working in commercial video production since 2010, leading teams in such media companies as Soundsphere Magazine and The Creative Condition and has acted as Artistic Director of InkBlot Films since 2014. 


Specialising in all aspects of video production, Jay's skills as director and producer come in handy during project managing situations. Thriving on practical situations as camera operator, editor, storyboard artist and 2D/ stop-frame animator allow him to get hands on with all aspects of the video production process.
Jay was trained by Aardman animators and specialises in Stop-Frame and 2D Digital animation, producing content for such clients as Kate Rusby, Legend Leisure Services and Visit York Tourism. His background as an artist and illustrator blend seamlessly with storyboarding, creating animatics for many commercial projects as well as aiding an artistic eye for visual storytelling which is integral to the medium of film.
Work History
Artistic Director - InkBlot Films
Video Journalist - Soundsphere Magazine
Video Producer - The Creative Condition
Media Mentor - KhaoZ Media
Education
Animation - BA Hons - University Of Central Lancashire
Film & TV Design - HND - North East Wales Institute
Performing Arts - Technical Theatre - BTEC - York College
Art & Design - ND - York College
Skills
2D Animation
Animation Director
basic filming and editing
Video Editing
2D Digital/3D/Stop Motion Animation (Character + Effects)
After Effects Animation
Camera Operating
Camera Operator
Cinematographer
Digital Editing
Director
Editing
Editor
Project Management
Storyboard
Storyboard Artist
Storyboarding
Storyboards