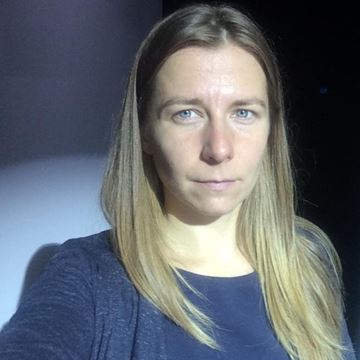 Elżbieta Chowaniec was born in 1982 in Kraków. She is a playwright and dramatist, author of plays for adults and children. She is a graduate of Katowice Film School with a degree in Film & TV Production, Łódź Film School with a diploma in Screenwriting, and Warsaw University with a Journalism degree. She attended the School of Drama at the Drama Laboratory in Warsaw. She has participated in numerous playwriting seminars and workshops with authors like Mark Ravenhill, Nikolaj Kolada, Iwan Wyrypajew. She is a recipient of the Theater Scholar Award from the Ministry of Culture and National Heritage.
Her first work, Gardenia, was staged in 2007 at the Drama Laboratory, Warsaw. Since then it has been translated into numerous languages and staged in Hungary, Slovakia, Russia and Romania. Since her debut in 2007, her plays and their adaptations have premiered over 20 times.
She has been collaborating with the Czech director, Marek Zakostelecky, to create original plays and adaptations for children since 2013. Other director's she has collaborated with include: Aldona Figura, Joanna Grabowiecka, Daria Kopiec, Wojciech Urbański, Robert Drobniuch, Jiri Havelka. Theater's she has worked with include: Teatr na Woli (Warsaw), Laboratorium Dramatu (Warsaw), Teatr im. Juliusza Słowackiego (Kraków), Teatr Powszechny (Radom), Wrocławski Teatr Lalek (Wrocław), Teatr Lalki i Aktora (Kielce), Teatr Lalka (Warsaw) and Polish Radio Theater.
Form in dramaturgy is one of her passions, especially as it relates to dance theatre and puppetry. She works with dancers at Pracownia Fizyczna, Łódź; she teaches dramaturgy of dance in the Choreography Department of the Music Academy, Łódź; she also teaches dramaturgy of form.