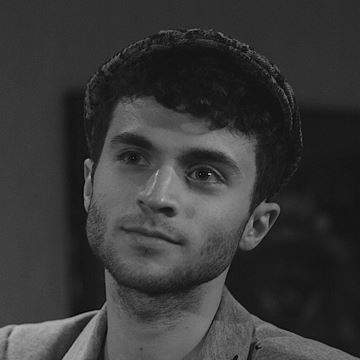 Joel Fisher
Artistic Director / Director / Dramaturg
Location:

London

Career stage:

Early

Freelancer:

Available
Joel Fisher is a musical theatre and opera director striving to reinvigorate and reinvent the genres by experimenting with the relationship between music and drama.
He is the co-founder of FTG Productions, a company that develops and produces new British Musical Theatre. The company are currently developing several shows with several different writing teams.
Joel has worked with Constella Ballet and Orchestra at developing opera-ballet, a new extended genre aiming to blur the lines between opera and ballet whilst creating work that is new, fresh and accessible. He is also looking into developing a new style of music theatre led entirely by actor-musicians.
Joel has assisted on several opera productions and continues his director residencies with OperaUpClose and Opera della Luna.
He recently directed the critically-acllaimed The Clown of Clowns as part of the Grimeborn Festival, Arcola Theatre:
British Theatre: ***** 'Superbly invigorating'
The Daily Express: 'One of the most imaginative and bewildering shows I have seen for a long time'
Fringe Opera: **** 'A necessary reminder of the beauty of fringe theatre'
Theatre Full Stop: **** 'Their experimental approach yields thrilling results'
Work History
Resident Director - OperaUpClose - (for UK tours of their shows)
Artistic Director - FTG Productions - Developing and Producing new British Musical Theatre
Assistant Director (dir. Jeff Clarke) - Orpheus in the Underworld - Iford Arts Festival and Tour (Opera della Luna)
Director - Sideshows - Edinburgh Fringe Festival (Constella Ballet & Orchestra)
Director - The Clown of Clowns - Grimeborn Opera Festival, Arcola Theatre (Constella Ballet & Orchestra)
Staff Director - The Elixir of Love - UK Tour (OperaUpClose)
Assistant Staff Director - (dir. James Conway) - The Siege of Calais (English Touring Opera)
Assistant Staff Director - (dir. Iqbal Kahn) - The Wildman of the West Indies - UK Tour (English Touring Opera)
Assistant Staff Director - (dir. James Conway) - La bohème - UK Tour (English Touring Opera)
Artistic Director - Under Construction - St. James Studio Theatre (FTG Productions)
Assistant Director (dir. Robin Norton-Hale) - The Elixir of Love - King's Head Theatre (OperaUpClose)
Assistant Director (dir. Robin Norton-Hale) - La bohème - King's Head Theatre (OperaUpClose)
Assistant Director (dir. Valentina Ceschi) - The Elixir of Love - King's Head Theatre (OperaUpClose)
Director - The Promised Land - Old Red Lion Theatre (workshop & Showcase)
Director - Sideshows - Tête-à-Tête Opera Festival (Constella Ballet & Orchestra)
Assistant Director (dir. Jeff Clarke) - La fille du regiment - Iford Arts Festival & Tour (Opera della Luna)
Assistant Director (dir. Jeff Clarke) - The Gondoliers - The Lowry, Quays Theatre (Opera della Luna)
Director - The Mikado - University of Manchester Studio 1 (College Production)
Director - The Marriage of Figaro - Cosmo Rodewald Concert Hall (College Production)
Assistant Director (dir. Tom O'Brien) - How to Succeed in Business Without Really Trying - The Lowry, Quays Theatre (The Company Music theatre)
Education
YFA Directors' Workshops - Training with Artistic Associates of the Almeida Theatre - Almeida Theatre
Springboard - - Training with guest facilitators and associates of the Young Vic - Young Vic
The King's Head Theatre Director Trainee Scheme - Training as Assistant Director, Production Assistant and ASM. - The King's Head Theatre
Degree in Music - MusB (1st Class with hons) - University of Manchester
A Levels - 3 A*s and 1 A - City of London School for Boys
GCSEs - 13 A*s - Immanuel College
Skills
Composition
Marketing
Arts Fundraising
Directing
Dramaturgy
Finale
Microsoft Office
Musical Theatre
Opera
Performing
Producing
QLab
Sibelius
Stage Managing