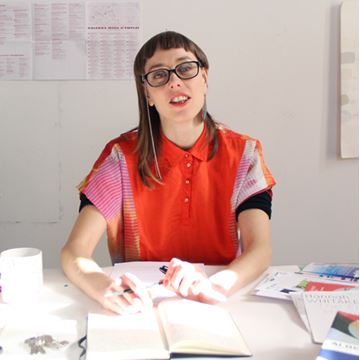 bettina john
Designer | Opera | Dance | Musicals | Music | Fashion
Location:

London/Berlin

Career stage:

Early

Freelancer:

Available Soon
Bettina John is a freelance designer and artist active in Germany and Great Britain. She works in opera, contemporary dance, theatre, performance art, music and fashion. In the centre of her cross-disciplinary design process stands collaboration, which she understands as enriching rather than a compromise, yet her designs aspire to be innovative and critical. She studied fashion design in Germany, then did her masters degree in new media art at Goldsmiths University in London, later studied design for performance at Central Saint Martins. She assisted fashion designers and worked in photography studios before she started to shift her focus on designing for the performing arts. This varied background makes her approach to design and art uniquely interdisciplinary and boundary-pushing.
Bettina John works regularly with and for other artists, musicians, choreographers and dancers, theatre makers and photographers. Her natural curiosity and discipline help her to achieve new and exciting design, think them through and find new ways.
With funding from the german arts council she went on an art residency in 2012 to stay and work at the ISCP in New York and in 2013 in Rio De Janeiro. That allowed her to develop and further her own art practice which can be placed mainly within the performing art scene as a performance- and installation artist herself. This has led to several exhibitions and scholarships in London, New York, Rio De Janeiro, Berlin and her hometown Halle.
Work History
Set and Costume Design Assistant - Jason Southgate, Staatstheater Oldenburg
Costume Designer - The Place, London
Set and Costume Designer - The MTA, Bernie Grant Art Centre and Bridewell Theatre
Costume Designer - Trinity Laban
Costume Workshop Technician - Royal Opera House
Costume Designer - Tony Adigun and Avantgarde Dance
Costume Designer - Dance United
Set and Costume Designer - The MTA, Bridewell Theatre
Education
Design for Performance - - - Central Saint Martins
New Media Art - MA - Goldsmiths University
Costume and Fashion design - BA - University of the Arts Burg Giebichenstein
Art Foundation - Foundation - University of the Arts Burg Giebichenstein
Skills
Adobe Illustrator
Adobe InDesign
Adobe Photoshop
Character Designer
Adobe Software
Advanced Pattern Cutting and Construction Skills
Costume Construction
Costume Design
Creative Drawing and Illustration
Fabric Sourcing
Garment Construction
Oil Painting
Pattern Design
Set Design