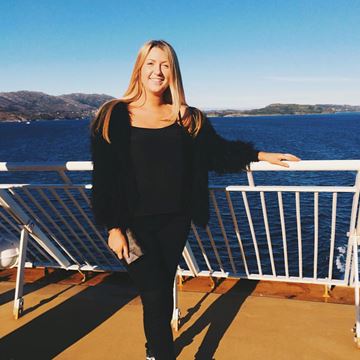 Amy Grogan
Location:

Glasgow

Career stage:

Entry

Freelancer:

Available
Hello,
My name is Amy Grogan. I am a Sculpture graduate from The Glasgow School of Art. I am looking to get into the TV or Film industry, in particualr prop making. I spent my 4 years at art school researching various materials and making giant sculptures of real life objects.
I am an extremely hard working person who is able learn new skills quickly and strives to achieve a new high standard of work at all times. My achievements to date are testimony to my hard work and ability. I have a warm personality and can quickly look at alternative solutions if a problem occurs.
I have a high level of interpersonal skills which I have developed both whilst at University and within my employment. I am able to communicate with people through a variety of ways including, telephone, email, face to face and body language allowing me to adapt between different forms of communication. I am a confident individual who is able to establish links and contacts within the required field.
In my job I am part of a team that has to work closely together to ensure all tasks are achieved safely. I have transferred these skills to support and develop teams at art school. I have worked collaboratively in a number of art projects including ones with peers and prisoners. I am a motivated individual who has self led my education.
I am a very hard working individual who has been used to working under pressure and to strict deadlines both at University and in my part time career, this has allowed me to develop full confidence within myself to perform tasks whilst under pressure.
Skills:
• Metal Work: hydraulic bending, TIG welding, grinding, riveting, threading, bronze casting.
Sculptures made: Giant clipboard (steel)
Giant bulldog clip (steel and aluminium rod)
Carrot Frame (steel rod)
• Special effect painting: dry brushing, spray painting, painting and weathering, priming, lacquer.
Sculptures made: Giant slice of toast (polystyrene)
Giant Toads (jesmonite)
Giant bulldog clip (steel and aluminium rod)
Dancing Gnomes (acrylic plastic and acrylic paint)
• Mould making and casting: plaster and silicone moulds.
Sculptures made: Giant Carrots (pigmented silicone)
Giant Onions (wax and ceramic)
Half of a giant leek (pigmented silicone)
Giant Toads (jemonite)
Carrot Tops (pigmented jesmonite)
Roast chicken soap on a rope (pigmented soap)
Gnomes (polyurethane foam)
• Adobe suite: photoshop, premier pro and illustrator.
• Creative thinking
• Communication skills: oral and written
• Management skills
• Reflective
• Planning
• Observation
• Problem solving
Education
Sculpture and Environmental Art - BA (hons) First Class - The Glasgow School of Art
Skills
Casting
Film Production
Metalwork
Mould Making
Moulding and Casting
Prop Making
Set Design
Portfolio
ScreenSkills is not responsible for the content of these uploaded files.