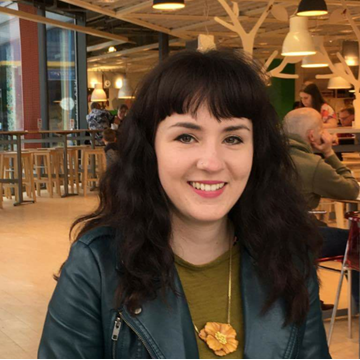 Holly Farmer
Doll and miniature artist and Illustrator
Location:

East Midlands, UK

Career stage:

Entry
I am a creative and visual storyteller, conveying compelling, imaginative worlds within Illustration and whimsical character design. I would like to find myself in a field in which I can express my ideas and bring my 2D Illustration skills to life.
I have a variety of practical creative skills, in particular within drawing, doll making and painting. I also have strong proven skills in digital design, including using Adobe Photoshop, Indesign and Illustrator.
I have worked on creative professional briefs with clients such as Apple IPad, Microsoft Surface, Red Bull, Little Simz and Miss Selfridge.
I am looking to gain work experience within theatre, animation or film industries, in which I can work within a team of inspired and creative people. I would like to learn practical making and building skills: Building puppets, props, sets and minatures.
I have a particular interest in stop-motion and would like to bring my own skills that I have learnt through my own doll customisation hobby into this industry.
My creative skills that I could offer, and would like to develop further:
- Illustration; Digital (Ipad 'Procreate' & Adobe Photoshop ), Watercolour, ink and mixed media.
- Sculpture; Dremel (sanding, carving, drilling), Sculpting with clay and paper-mache, wire sculpture, textiles - needlework, painting onto fabric.
- Comic and Storyboarding; Storytelling through narrative illustration and poetry, book binding, digital character design.
- Character Design; Digital and traditional characters and caricatures.
- Book binding ; Japanese stab binding.
- Paper making ; Recycled paper using pulp, using paper in sculptural work.
- Art Doll customisation ; Carving, basic costume making, repainting, Re-root, Wig making, sculpture and miniature work.
- Animation; Adobe After Effects, Animated GIF's
- Design and layout; Adobe Indesign and Adobe Illustrator for book and magazine layout.
Please take a look at my portfolio on here, or visit my instagram page: @holly.f
Or website: www.hollyfarmer.com
Work History
Props and Paint shop assistant - Work placement - Nottingham Playhouse
Retail Assistant - Green and Stone of Chelsea - Fine arts materials and antiques
Education
BA (Hons) Fashion Illustration - First Class Honours - London College of Fashion
Skills
2D Animation
Adobe Illustrator
Adobe InDesign
Adobe Photoshop
Digital Paint
Graphic Design
Adobe After Effects
Doll making
Puppetry
Puppets
Sculpture
Stop Motion
Stop Motion Animation
Followers
Following