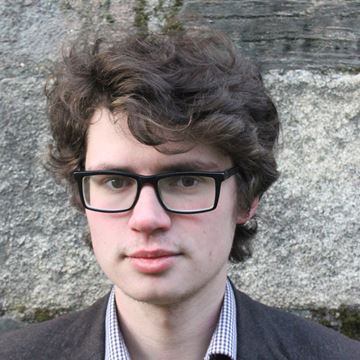 Richard O'Brien
Poet, playwright & PhD researcher
Location:

Birmingham

Career stage:

Early

Freelancer:

Available
I write poems, verse plays, reviews, and academic criticism. Occasionally, I'm also on the radio.
In 2006 and 2007 I was one of 15 winners of the Foyle Young Poets of the Year Award. Since then, my work has featured in Poetry London, The Salt Book of Younger Poets, The Morning Star, and a number of anthologies published by the Emma Press. My latest pamphlets are A Bloody Mess (Dead Ink/Valley Press) and The Emmores (The Emma Press). I run a blog, The Scallop-Shell, which is devoted to the close-reading of contemporary poetry.
In 2013 I read for BBC Radio 3's Proms Plus Late series, and in 2015 I was a winner of the inaugural London Book Fair Poetry Prize (Sonnet category). I'm currently taking part in Myths and Monsters: a nationwide children's poetry tour organised by the Emma Press. In March next year, I'll be writing a commissioned poem for an event at the British Library's 'Alice in Wonderland' exhibition, organised by Ekphrasis.
Since 2014 I've been a PhD researcher at the University of Birmingham's Shakespeare Institute, looking at how verse drama has developed up to the present day in response to the influence of Shakespeare.
As part of the project, I'm writing verse plays. My company, Haunted House Theatre, is taking Free for All to the Edinburgh Fringe: Aug 17th-29th at theSpace@Surgeons Hall.
Perhaps most importantly of all, I once wrote a Buzzfeed article – 21 Things Only Kids Who Grew Up in the 1590s Will Understand – which the Globe retweeted. #Impact.
You can contact me about readings, writing, or most things in-between on richardtobrien AT gmail DOT com, or on Twitter @notrockyhorror.
Work History
PhD researcher - Midlands3Cities - University of Birmingham
Development researcher - Blink Films
Radio presenter - EURadioNantes
Theatre reviewer - Broadway Baby
Submissions editor - Pomegranate Poetry Magazine
Education
Shakespeare and the Development of Verse Drama - PhD - The Shakespeare Institute, University of Birmingham
Shakespeare and Creativity - MA - The Shakespeare Institute, University of Birmingham
English and French - BA - Brasenose College, University of Oxford
Skills
Podcast Production
Scriptwriting
Fiction
Playwriting
Poetry
Theatre
Portfolio
ScreenSkills is not responsible for the content of these uploaded files.