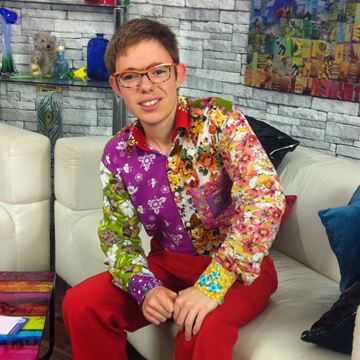 Alex Manners
TV & Radio Presenter‏‏‏‏‏‏‏
Location:

Solihull

Career stage:

Expert

Freelancer:

Available
"Different" is a word that springs to everyone's mind when they think of me, because I am unique!
My personality is colourful, quirky and fun. I love wearing bright, multi-coloured, flowery and flamboyant clothes. I am a keen gardener and I like discovering exciting food, from octopus to peanut butter pasta. I am mad about sport, especially football and I aim to visit all 92 English League clubs for a match (81 so far!).
Described by the Daily Mail as; "The eccentric and colourful Alex Manners"​
http://www.dailymail.co.uk/video/news/video-1198136/Top-Gear-Auditions-eccentric-colourful-Alex-Manners.html
I am energetic, determined and have a lust for life. I consider myself lucky to have Asperger's because that is why I am so different!
My ambition is to be a Television Presenter for children and share my passion and fun to inspire young people everywhere. My goal is to develop innovative TV programs for children and I had my own show, "Rainbow Man" reviewed by the Cbeebies commissioning team. I also have my own Children's show on Solihull Radio every Sunday between 8-10am.
I am literate in all Microsoft packages, play golf and squash, have both ICT and DT A-levels, 6 GCSE's, completed TV presenter training course and have my own website and YouTube channel.
Work History
Children's Radio Presenter - Solihull Radio
Freelance Filming - Solihull Arden Squash & Tennis Club
Freelance Filming - BT Sports & Solihull Moors Football Club
Work Experience - BT Sport
Education
Creative Media Productions - BTEC level 3 Diploma - Solihull College
ICT - A Level grade C - St Georges School Edgbaston
Design & Technology - A Level grade B - St Georges School Edgbaston
Skills
Public Speaking
Video Editing
Presenting
Radio Presenting
Video Production
Voice-over
Website Design
Portfolio
ScreenSkills is not responsible for the content of these uploaded files.