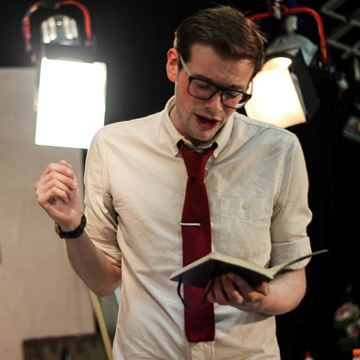 Ciaran Bittles
Actor
Location:

Belfast, Northern Ireland

Career stage:

Entry

Freelancer:

Available
Welcome!
My name is Ciaran and I am an actor living and working in Northern Ireland.
Born in Belfast in 1994, as the city was begining to recover from a 30 conflict. I attended the Royal Belfast Academical Institution, graduating in 2013 with honours in both Music and Drama. Having studied Drama, English Literature and History at A-Level.
Growing up I always found the stage to be a second home. A place where reality was only one step away from total absurdity. This led me to become a member of several Youth Theatre groups such as Youth Lyric and Youth Action: The Rainbow Factory. These institutions gave young people, like myself, an opportunity to develop skills for the performing arts, both on and off the stage in areas such as dance, mask work, sound and lighting and.
Improvisation was another area of intrigue, a key weapon in the actors arsenal. Through this teaching I achieved Grade 7 in Speech and Drama.
My first short film as the protagonist in "The Coming of Age" was the winner of the Director's Choice Award at Belfast Film Festival in 2015. This was such a rewarding experience for me that I decided for the next film I would employ my skills as both cast and crew. This year's festival also screened several films I featured in, including "Land of the Blind" and "The Dick".
I am also very honoured to be involved with a team aiming to crowd-fund a feature film. A comedy-horror piece called "Tounged".
Known to try my hand at writing, I am working on a script for a short film, focusing on current issues in our society today such as mental health and gender equality.
Unfortunatly options in Northern Ireland for those seeking a higher education in Acting are somewhat limited. My current goal is to establish myself in London and earn a place at one of it's many prestigious performing arts schools to study a foundation course in acting. Having taken an interval from education to gain experience in the industry this would be the ideal way to further my studies, allowing me to develop my craft and find my own technique, with the intention of continuing to an Acting BA and then, hopefully, a healthy career.
"All the world's a stage, And all the men and women merely players."
Work History
Sales Assistant - The Vineyard LTD
Bartender & PR Manager - Bittles Bar
Tour Guide & Bar Manager - Crumlin Road Gaol
Bartender - Aether & Echo
Education
Secondary Education - GCSE & A-Level - Royal Belfast Academical Institution
Skills
Acting
Public Speaking
Archery
Comedy
Creative
Dance
Drama
Full Clean Driving Licence and Car
Improvisation
Motorcycle Licence
Problem Solving
Public Relations
Singing